Grenada
Grenada Travel Guide
Grenada Travel Guide
A mountainous and volcanic landscape gives Grenada one of the loveliest environments in the Caribbean, with crater lakes, rainforests and coastal mangrove plantations giving way to white sand beaches, and brilliant blue waters filled with coral reefs.
Grenada is known as the 'Spice Island' - and with good reason. Nutmeg, cloves, cinnamon, ginger and vanilla are just a few of the scented gems found here. When it comes to food, Grenadian's like it particularly hot and spicy. Pepper pot is a favourite - meat cooked with lots of pepper, garlic and onions. As well as frangrent spices, music is also an important part of life on Grenada, and the calypso tunes dancing over the island serve to evoke Grenada's African origins.
Key Facts
Capital

Saint George's.

Geography

Grenada is located in the Caribbean. The island is of volcanic origin and is divided by a central mountain range. It is the most southerly of the Windward Islands.

It's agriculture is based on nutmeg - one third of the world's nutmeg supply comes from Grenada - cocoa, sugar cane and bananas. Tropical rainforests, gorges and the stunning beauty of dormant volcanoes make this a fascinating and diverse landscape with some of the finest beaches in the world. Carriacou and some of the other small islands of the Grenadines are also part of Grenada.

Government

Constitutional monarchy.

Head Of State

HM Queen Elizabeth II, represented locally by Governor-General Cécile La Grenade since 2013.

Head Of Government

Prime Minister Keith Mitchell since 2013.

Electricity

220 volts AC, 50Hz. British-style three-pin plugs are standard.
Grenada history, language & culture
For a small island, Grenada has had a turbulent history. The earliest known inhabitants were Arawak Indians, who were then displaced by Caribs some time before AD 1300. The first serious attempt at settlement by Europeans was in 1609, but the Caribs resisted fiercely and it was not until 1650 that the French were able to claim the island. It remained a French colony until taken by the British in 1783. Grenada was an important centre in the slave trade between Africa and the sugar plantations of the West Indies. With the emancipation of slaves and the disintegration of the plantation system, the majority of islanders came to depend on a few local industries and their own smallholdings. Radical politics have been a hallmark of Grenadian society since the early 1950s when trade union organisation, promoted by Eric Gairy, a firebrand ex-teacher, took root among the workforce. Gairy ultimately led Grenada into independence from the UK in February 1974, and subsequently won three elections for the premiership. Not all were content with Gairy's regime, however, and among his opponents was the New JEWEL Movement (Joint Endeavour for Welfare, Education and Liberation), a group of mainly young, educated left-wingers led by Maurice Bishop. In the spring of 1979, the NJM deposed Gairy in a bloodless coup. The USA believed that the NJM was determined to turn Grenada into a mini-Cuba, and from 1980 onwards increased political pressure against the Government. The question of how to respond to this, and other issues, split the NJM leadership, and led to the military coup of October 1983 in which Bishop was killed. The coup provided a pretext for the US invasion and the restoration of the pre-NJM system of government under the tutelage of the USA. Four existing political parties allied to form the New National Party (NNP), under the leadership of the veteran politician Herbert Blaize, to keep out Eric Gairy who was still on the scene. At the general election in December 1984, the NNP won handsomely. The NNP has dominated Grenadian politics ever since, and won the most recent election held in November 2003, where it swept the board for the House of Representatives. Party leader Keith Mitchell is now into his third term as Prime Minister. Mitchell's government continues the NNP tradition of very close relations with the USA, although a sharp drop in financial support led Mitchell, along with other East Caribbean leaders, to seek economic assistance elsewhere. The Organisation of East Caribbean States plays an important part in Grenada's foreign policy. A proposed political union comprising the member of the organisation has aroused fierce opposition because of historic inter-island rivalries, although its supporters (who include the Mitchell government) feel it essential to the future prosperity and security of the region.
Culture
Religion
Roman Catholic 53%, Anglican 14%, smaller Protestant denominations 33%.
Social Conventions
Local culture reflects the island's history of British and French colonial rule and, of course, the African cultures imported with the slaves - African influence is especially noticeable on the island of Carriacou in the Big Drum and in Grenada with the Shango dance. The Roman Catholic Church also exerts a strong influence on the way of life. Local people are generally friendly and courteous. Dress is casual and informal but beachwear is not welcome in town.

Language
English. French African patois is also spoken by some of the population.
Grenada weather, climate and geography
Climate
Best Time To Visit
Grenada's climate is tropical. The dry season runs January-May, and the rainy season runs June-December. The average temperature is 28°C (82°F).
Required Clothing
Tropical lightweights and waterproofs, especially for the rainy season. Cool summer clothing.
Geography
Grenada is located in the Caribbean. The island is of volcanic origin and is divided by a central mountain range. It is the most southerly of the Windward Islands.

It's agriculture is based on nutmeg - one third of the world's nutmeg supply comes from Grenada - cocoa, sugar cane and bananas. Tropical rainforests, gorges and the stunning beauty of dormant volcanoes make this a fascinating and diverse landscape with some of the finest beaches in the world. Carriacou and some of the other small islands of the Grenadines are also part of Grenada.
Doing business & staying in touch
All correspondence and trade literature is in English.

Office Hours
Mon-Thurs 0800-1500; Fri 0800-1700. Government offices are generally open Mon-Fri 0800-1600 but are closed 1200-1300 for lunch.
Economy
Grenada relies on tourism as its main source of foreign exchange, especially after Hurricanes Ivan (2004) and Emily (2005) severely damaged the nutmeg industry, which was previously a key driver of economic growth. The agricultural sector, particularly nutmeg and cocoa cultivation, has recovered from the hurricanes, and the tourism sector has seen substantial increases in foreign direct investment.

Strong performances in construction and manufacturing have contributed to growth in national output but economic growth is expected to slow in 2009 because of the global economic crisis. As a result of Hurricanes Ivan and Emily, Grenada is saddled with debt. Public debt-to-GDP is nearly 110%, leaving the government limited room for social spending. Unemployment stands at 12.5%.
There are 11 hotels offering meeting facilities, seating from 25 to 160 persons. For details, contact Grenada Board of Tourism (see Contact Addresses).
GDP
Main Exports
Nutmeg, bananas, cocoa, fruit and vegetables and mace.
Main Imports
Food, manufactured goods, machinery, chemicals and fuel.
Main Trade Partners
Trinidad & Tobago, The Netherlands, Germany and UK.
Commercial Contacts
Grenada Chamber of Industry and Commerce
Telephone: 440 2937
Website: http://www.grenadachamber.org
Address:
St George's
PO Box 129
Grenada
Grenada

Telephone
No area codes are in use. Coin and telephone card payphones are available. Telephone cards can be purchased at the offices of Cable & Wireless Grenada and from other agents. International dialling is available from most hotel rooms.
Mobile Telephone
Roaming is available to all mobile phones that are TDMA digital network compatible. Contact Cable & Wireless in Grenada for further details. Coverage is variable.
Internet
Internet is widely available throughout Grenada; there are Internet cafes in St George's.
Post
The main post office is in St George's (on Lagoon Road).
Post Office Hours
Mon-Thurs 0800-1600, Fri 0800-1630 (closed weekends).
Media
Grenada's media are free, as is stipulated in law. No daily newspapers exist, and weeklies are privately owned and freely criticise the government. All newspapers are in English. They include Grenada Times, Grenada Today and The Grenadian Voice.The Grenada Broadcasting Network, jointly owned by the Caribbean Communications Network and the government, runs Klassic Radio, SUN FM and GBN TV.
Travel to Grenada
Getting There By Air
Departure Tax
EC$50 per adult, payable in cash (local currency only). EC$25 for children five to 12 years of age. Children under five are exempt.
Getting There By Water
St George's, considered the most picturesque port in the Caribbean, is a port of call for many cruise lines. Around 60% of tourist arrivals are cruise-ship passengers. There is a daily shuttle boat service to Carriacou and Petite Martinique; boats can be hired for access to Isle de Ronde. Check at a local tourist office for times and fares.
Where to stay in Grenada
Hotels
There are many high-quality luxury resorts on the islands that offer wedding packages and will make all the necessary legal arrangements. These resorts offer excellent facilities for weddings, watersports, dining and excursions.
Grenada offers a variety of modern, luxurious hotels, graded from 1 to 5 stars. An 8% government tax is added to all hotel and restaurant bills, and a 10% service charge is added to the bill by many hotels and restaurants. Contact the Grenada Board of Tourism for details and exact price listings (see Contact Addresses).
Bed And Breakfast
There is bed and breakfast accommodation and several guest houses, some of which offer self-catering facilities. Guest houses are not graded.
Camping Caravaning
Camping is generally not permitted because there are no proper camping facilities. However, it is possible to camp in certain places but only with the prior permission of the landowner.
Other
There are a growing number of apartments and villas available for hire. Contact the Grenada Board of Tourism for details.
Grenada travel advice
Last updated: 26 May 2014
The travel advice summary below is provided by the Foreign and Commonwealth Office in the UK. 'We' refers to the Foreign and Commonwealth Office. For their full travel advice, visit www.gov.uk/foreign-travel-advice.
There is no British High Commission in Grenada. If you need consular assistance, contact the British High Commission in Barbados.

The hurricane season in Grenada normally runs from June to November. See Hurricanes
Around 25,000 British nationals visit Grenada each year. Most visits are trouble free.
There have been incidents of robbery and other crime.
There is a low threat from terrorism.
Contact Addresses
Embassy of Grenada in the USA

(202) 265 2561

http://www.grenadaembassyusa.org


NW
1701 New Hampshire Avenue
Washington
20009
Grenada


British Honorary Consul in Grenada

(1) 473 440 8844

https://www.gov.uk/government/world/organisations/british-high-commission-barbados


PO Box 38
St George's
Grenada


Grenada High Commission in the UK

(020) 7385 4415.

http://www.grenadahclon.co.uk/

Mon-Fri 0900-1700; 1000-1400 (consular section).


Archer Road
The Chapel
London
W14 9QH
Grenada

Grenada Passport And Visa Requirements
| | Passport Required | Visa Required | Return Ticket Required |
| --- | --- | --- | --- |
| Australian | Yes | No | Yes |
| British | Yes | No | Yes |
| Other EU | Yes | 1 | Yes |
| USA | Yes | No | Yes |
| Canadian | Yes | No | Yes |
Passport Info
A passport valid for six months from the date of departure is required by all nationals referred to in the chart above wishing to visit Grenada.
Visa Info
Visas are not required by the nationals referred to in the chart above for stays in Grenada of up to three months except:
1. Nationals of Bulgaria and Croatia who must obtain a visa on arrival.
Nationals not referred to in the chart are advised to contact the high commission or embassy to check visa requirements for Grenada.

Types And Costs
Single-entry visa on arrival: EC$100; multiple-entry visa on arrival: EC$250. Nationals requiring a visa on arrival must obtain a pre-clearance letter from the embassy or high commission before travel. There is a US$10 fee for the letter plus mailing costs.
Single-entry visa in advance: US$100; multiple-entry visa in advance: US$250.
High commission or embassy (or consular section at embassy).
Working Days
Allow around seven days for visa processing.
Grenada Health Care & Vaccinations
| Vaccination identifier | Special precautions |
| --- | --- |
| Rabies | Sometimes |
| Malaria | No |
| Hepatitis A | Yes |
| Diphtheria | Sometimes |
| Yellow Fever | No* |
| Typhoid | Sometimes |
| Tetanus | Yes |
Vaccinations Note
* A yellow fever vaccination certificate is required from all travellers over one year of age coming from infected areas.

There is a general hospital in St George's (tel: 440 2051) and small hospitals in Mirabeau and Carriacou. Health insurance is strongly recommended.
Food Drink
Mains water is normally chlorinated and relatively safe, but there is still some risk of diarrhoea, particularly in rural areas. Bottled water is available. Milk is pasteurised and dairy products are safe for consumption. Local meat, poultry, seafood, fruit and vegetables are generally considered safe to eat.
Other Risks
Immunisation against hepatitis B is sometimes recommended. There is a high prevalence of HIV/AIDS. Rabies is present. For those at high risk, vaccination before arrival should be considered. If you are bitten, seek medical advice without delay.
Public Holidays in Grenada
Below are listed Public Holidays for the January 2014-December 2015 period.
Money & Duty free for Grenada
Currency Information
East Caribbean Dollar (XCD; symbol EC$) = 100 cents. Notes are in denominations of EC$100, 50, 20, 10 and 5. Coins are in denominations of EC$1, and 50, 25, 10, 5, 2 and 1 cents.

Note: The East Caribbean Dollar is tied to the US Dollar. The US Dollar is accepted everywhere, but change might be given in EC$.
Credit Cards
American Express, Diners Club, MasterCard and Visa and other major cards are accepted by most shops, car hire companies and hotels. ATMs are available, mostly in St George's.
ATMs
ATMs are available, mostly in St George's.
Travellers Cheques
Widely accepted. To avoid additional exchange rate charges, travellers are advised to take traveller's cheques in US Dollars.
Banking Hours
Mon-Thurs 0800-1500, Fri 0800-1700.
Currency Restrictions
There are no restrictions on the import or export of local or foreign currency. However, amounts exceeding EC$10,000 must be declared upon arrival.
Currency Exchange
Barclays Bank, Grenada Bank of Commerce, Grenada Co-operative Bank, National Commercial Bank and Scotia Bank are all found on the island. It is advised to exchange currency at banks to obtain the most favourable exchange rates.
Duty Free
The following goods may be imported into Grenada by travellers aged 18 and over without incurring customs duty:
- 200 cigarettes or 50 cigars 250g of tobacco.
- 1L of wine or spirits.
- 300ml of perfume.
- Goods to the value of EC$300.
Banned Imports
Narcotics, arms and ammunition (unless you obtain a police licence), fruit and vegetables.
Things to see and do in Grenada
Bask at the beach
One of the island's best beaches is at Grand Anse; another is at Levera Bay near the island's northern tip. The beaches on neighbouring Morne Rouge are stunning, as are the deserted beaches on the southern coast. Levera Bay is a favourite surfing spot.
Carriacou Museum
Discover the islands' history at the Carriacou Museum in Hillsborough, where there's an impressive collection of Amerindian artefacts and mementoes dating back to 18th century when the islands were occupied by the French and British.
Diving
Grand Anse beach is the starting point for diving trips to nearby reefs and islands. One of the best dive sites is Molinière Reef, about 5km (3 miles) from St George's. Carriacou, in the Grenadines offers excellent diving. Keen snorkellers should head to White Island Marine Park and Martin's Bay, close to Grand Anse.
Ecology days out
See Grenada's oyster beds, reached along a trail from Tyrrel Bay, followed by a short boat ride to the middle of one of the most pristine ecosystems in the region. La Sagesse Nature Reserve, in the south, is a protected bird sanctuary with rivers, mangroves and salt lakes.
Enjoy Caribbean rum
Discover how rum is made on a guided tour of one of the island's main rum distilleries. At the Grenada Sugar Factory in St George (www.clarkescourtrum.com), guided tours include a tasting and opportunity to purchase its rum products.
Fun runs
Make sure you're on Grenada on a Saturday, to watch the fortnightly event called hashing (www.grenadahash.com). Participants meet at a designated rum shop, run around the island following a trail of flour or paper and after about two hours return to the rum shop to undo all the good exercise
Hiking in Grand Etang
Grand Etang National Park and Forest Reserve contains numerous marked trails, with gentle half-hour walks or expeditions of several hours. The park contains a wealth of interesting flora and fauna, and there are spectacular flower displays depending on the season.
Join the carnival
August is carnival time on Grenada and everyone is welcome to join in. It's a riot of colour and fun, with lively street parties, street theatre, steel bands and calypso competitions that all go on well into the early hours of the morning.
Lucky springs
The River Sallee's boiling sulphur springs can be seen bubbling in a number of holes north of Lake Antoine in the northeast of the island, leaving orange and yellow hues on the surrounding landscape. They are of spiritual importance for various religious sects and a natural wishing well. Don't forget to throw in a coin before you leave.
Sailing
Yacht races and regattas are held throughout the year on Grenada. The Sailing Festival in February (www.grenadasailingfestival.com) is the biggest and attracts yachtsmen from all over the world. The sailing regatta in Tyrell Bay on Carriacou is also popular. The Grenadine islands are a popular sailing destination.
Spice tours
While on the spice island, don't miss a visit to Gouyave Nutmeg Processing Station, the largest nutmeg processing factory on the island. The Dougaldston Estate is a traditional plantation in the centre of the nutmeg and cocoa growing region. Most of the traditional spice factories offer tours of the grounds.
Waterfalls
Grenada's most spectacular waterfalls are the 15m (50ft) Annandale Falls and Mount Carmel Waterfall, which has two falls cascading over 21m (70ft) to clear pools below. You can swim in several of the islands' rainforest pools and lakes, many of which are formed by waterfalls, such as the Concord Falls.
Shopping & nightlife in Grenada
Special purchases include leather crafts, jewellery, spices, straw goods and batik (printed cotton and other fabrics). St George's market is the centre of island life. There are a number of duty-free shops selling quality goods from all over the world. A market near Grand Anse beach has scores of vendors selling crafts and spices.
Opening Hours
Mon-Fri 0800-1600, Sat 0800-1300. Supermarkets are usually open Mon-Sat 0900-1900. Craft and souvenir shops will open Sundays and bank holidays especially if cruise ships are in port.
Nightlife
Home to the vibrant calypso and reggae music, Grenada offers a good mix of local and international restaurants and bars. Many resorts provide night-time entertainment, such as discos, organised shows and cabarets. The Reno Cinema in St George (tel: 440 5368) hosts many multicultural events as well as showing films. The Grenadian Jazz Society holds concerts several times a year in a number of hotels. Carnival takes place in towns across Grenada in the second week of August.
Food and Drink in Grenada
Most hotels and restaurants offer international cuisine, serving a large variety of tropical fish and English, Continental, American and exotic West Indian food. Bars are stocked with the most popular wines and spirits, local beers and various brands of whisky, rum and brandy.
Regional Specialities

- Seafood, such as crabs and lambi (conchs).
- Calaloo (a leafy vegetable similar to spinach) soup.
- Oildown is the national dish consisting of stew made with salted meat, breadfruit, onion, celery, carrot, daheen (a root vegetable grown locally) and dumplings all slowly steamed in coconut milk until the liquid is absorbed.
- Rotis are curry-spiced wraps made from pastry or bread and filled with beef, chicken, or vegetables.
- Nutmeg ice cream.
Tipping
A 10% service charge is added by most hotels and restaurants. If no charge is added, it is customary to leave a 10% tip. There is also an 8% government tax to pay at hotels and restaurants.
Drinking Age
Getting around in Grenada
Getting Around By Air
Lauriston Airport (CRU) in Carriacou is serviced daily by the main regional carrier St Vincent Grenadines Air (SVD) (www.svgair.com). Flights are from Grenada and St Vincent. The airport accommodates light aircraft only. To/from the airport: There are no buses; taxis can be called. Facilities: Washroom and waiting room only.
Road Quality
Most main roads are in good condition but they are narrow and winding.
Car Hire
Car hire: Vehicles are available to hire in St George's, Grand Anse or St Andrew's from local car rental firms. Credit cards are not always accepted by car hire companies. Some rental companies impose a minimum age of 21. Speed limits are not posted; speed is dictated by the state of the road - most are narrow and winding. Car hire firms will provide details of what to do if you break down. Some firms have a minimum rental period of three days during peak periods.
Taxi
Taxi: Taxis are the most efficient means of transport. They are available from the airport, the Carenage and most hotels. Mandoo's Taxi Service is a fully insured sightseeing and taxi service, recommended by the Board of Tourism (see Contact Addresses).
Documentation
Documentation: A temporary local driving licence is required and available for a fee from the traffic department at the central police station on Carenage or from most car hire companies, on presentation of a valid driving licence. An International Driving Permit is recommended, although it is not legally required.
Getting Around By Water
Main ports: Colourful motor boats operate a water-taxi service between Grand Anse Beac and St George's. There is a high-speed ferry service from the Carenage, Grenada to Carriacou. There is also a daily ferry service from Grenada to Carriacou, Petite Martinique and back. A large number of yachts and boats are available to charter. Arrangements can be made via the Grenada Board of Tourism (see Contact Addresses).
Cruise cities in Grenada
St Georges (Grenada)
Hemmed by hills and an extinct volcano, St Georges sits on the horseshoe-shaped inner harbour of the Carenage, a marine port fringed by warehouse bars and restaurants. Nearby, the botanical Bay Gardens and 18th-century Fort George invite exploration amongst a landscape of red-roofed buildings and crops of nutmeg and cacao. Grenada's famous stretch of white-sand Grand Anse beach lies to the south of the city. Boatmen in fishing villages on St George's outer edges offer daily charters out to waters rich in marlin, sailfish, dorado and wahoo. Nature lovers can also discover Grenada's magnificent unspoilt countryside, with wildlife trails for hikers, mountain bikers, birdwatchers and waterfall buffs.
Sightseeing
The 'Spice Island' of Grenada is famed for its white-sand beaches, especially the stretch at Grand Anse, just south of St Georges. A number of old plantations offer daily tours of colonial-era buildings and sugar cane production plants. Visitors are also welcome to visit the spice mills, rum distilleries and colourful street markets.

Highlights:
- Gouyave factory where spices are sorted, dried and milled
- The water-powered River Antoine Rum Distillery, established in 1785, and the oldest production rum plant in the Caribbean
- Jeep safari across the Grenada landscape
Tourist Information
Grenada Board of Tourism in the UK
11 Blades Court, 121 Deodar Road, London SW15 2NU, UK
Tel: (020) 8877 4516.
Website: www.grenadagrenadines.com
Shopping
Over 170 cruise ships bring more than 230,000 passengers to St Georges each year - and the city's shopping serves each visitor well. Local street vendors stock something for everyone, from printed cottons, straw hats and woven bags to leather goods and beaded jewellery. Spice stalls are everywhere with a good number of duty-free outlets for branded electronics, watches and perfumes. Both cruise disembarkation points are close to malls, shops and markets. Many stores extend their hours to cater for cruise ship arrivals, some offering discounts of up to 20%.
Eating Out
Island specialities fuse West Indian and Creole flavours to create a uniquely Grenadian cuisine. Fresh seafood can be found on every menu with Grenadian caviar popular (the roe of the white Sea Urchin) as is conch. Grenada's national dish, Oildown, consists of salted meat, onion, carrot, celery, breadfruit and dasheen stew with dumplings cooked in coconut milk. Carib Rum, tropical fruit juices and punches are also popular island-wide, as is the excellent local beer.
When To Go
Grenada's warm year-round weather offers near-constant temperatures around 27°C (80°F). Rainfall is common, but tends to be brief showers that increase during the rainy season of June to November.
Nearest Destination
St Georges.
Transfer Distance
1km (0.6 miles).
Transfer Time
5-10 minutes walk.
Social Conventions
British and French colonial rule have left their indelible mark on societal values. Strong African influences from the era of slavery remain dominant in festivals and rituals. Religious morals permeate modern life due to the weight of the local Roman Catholic Church. Beachwear is acceptable in the resorts but is frowned upon when worn away from the sands.

Tipping: As well as an 8% government tax, most hotels and restaurants add a 10% service charge to their bills - if not, an equivalent gratuity is customary. Round-up taxi fares; pay porters a dollar per bag.
Key Facts
Time Zone
GMT - 4.
Currency
East Caribbean Dollar (EC$) = 100 cents.
Language
English, with a Grenadian patois spoken widely.
Location
The most southerly of the Windward Islands, about 161 km from the Venezuelan coast.
Population
40,200.
Government
Constitutional monarchy; attained independence (from Great Britain) in 1974.
Religion
Predominantly Roman Catholic with other small groups of Christian faiths, including Protestant, Jehovah's Witnesses and Seventh Day Adventists, and a Muslim minority.
7 day forecast for St Georges (Grenada), Grenada
Read About Grenada
Eco Tourism in Grenada
Eco Tourism in Grenada
Lisa Mercer
snowgoddess8@gmail.com
Friday 05th of August 2011
An Eco-Caribbean Vacation
Grenada, a small, Eastern Caribbean island, sits at the southern extremity of the Windward Islands. Despite its Caribbean location, Grenada is not primarily a beach destination. The mountainous island is home to an active undersea volcano, lush rainforests, scenic parks and exotic bird-watching locations.
Grenada's Flag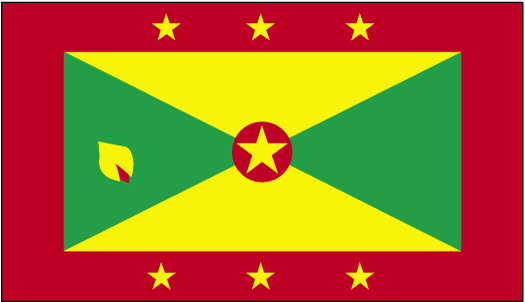 The yellow in Grenada's flag represents the island's abundant sunshine and the green symbolizes its vegetation and agriculture. The red color celebrates the bravery and perseverance of its people. Grenada created its flag on February 7, 1974, when it gained independence from British rule. A nutmeg embellishes the left side of the flag, and pays homage to Grenada's most important export.
The Isle of Spice
The reasoning behind Grenada's distinction as the Isle of Spice becomes apparent the moment you step off the plane, when the aromas of cinnamon, nutmeg, clove, pimento, saffron and ginger permeate the air. As one of the world's major exporters of nutmeg, Grenada entices its visitors with the subtleties of spiced cuisine, adding flavors impossible to reproduce with chemical food additives. Visit
Dot's Plaza
to purchase spices packed in hand-crafted baskets. They even sell pure vanilla, not the vanilla extract available at American supermarkets!
Grand Etang Lake & National Park
A labyrinth of linked trails surround the
Grand Etang Lake
, located in the central section of the island in the Saint Andrew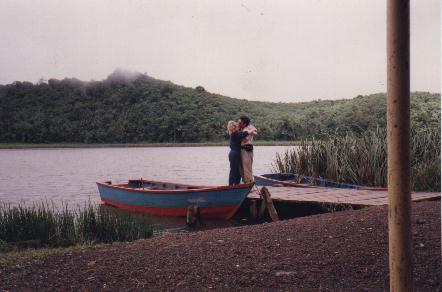 Parish. The pathways meander through hot springs, waterfalls and a diverse selection of rainforest flora and fauna, including orchids, giant mahogany trees, tropical birds, monkeys, mongooses and lizards. A deep azure color distinguishes the lake, which is actually a volcanic crater filled with water. Grand Etang's multiple elevations created a series of diverse ecological subsystems, explorable by hikes ranging from easy 15-minute walks to three-hour hikes. The 90-minute Ridge and Lake Circle trail explores the lake's perimeter. Those wishing for a workout will love the Mt. Qua Qua Trail, with its steep, butt-toning sections. Experienced hikers take delight in the three-hour Seven Sisters Trail, which passes Lake Etang's seven mountain waterfalls.
La Sagesse Nature Center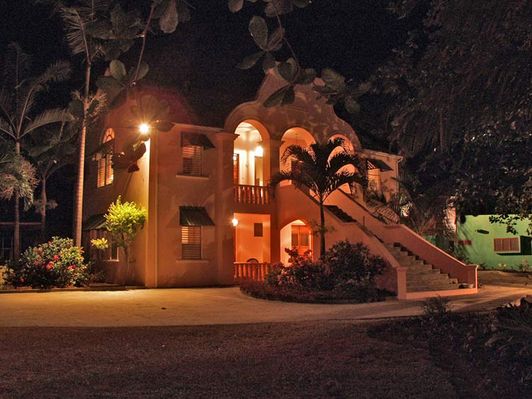 La Sagesse Nature Center
hides on the Atlantic side of the island, about a 25 minute ride from the
Point Salines International Airport.
This anti-resort minimizes their publicity
,
creating an eco-travel experience that appeals to travelers who favor the natural resources of the island over its man-made attractions. There's an ironic humor to its exclusivity. The grand manor house at La Sagesse once belonged to Lord Brownlow, a cousin of Queen Elizabeth. Brownlow owned La Sagesse banana plantation. He wanted the road to La Sagesse closed, so that he could prevent the people of Grenada from using the beach that surrounds the plantation. The populace eventually threw Lord Brownlow out of the country, and the road is now open to anyone. Finding La Sagesse, however, is a different story. Since it is less accessible to the main town of Saint George, it remains a quiet and peaceful island retreat. Guests chose between rooms at the manor house, in the adjacent cottage, or in a new building, which features oceanfront duplex suites. All of the rooms sit within 30 feet of the ocean, and have screened windows and ceiling fans. The beaches of La Sagesse Nature Center provide an optimal environment for coral reef snorkeling.
The Restaurant
La Sagesse Nature Center's restaurant serves an enticing
menu
of fish, pasta, seafood, chicken and vegetarian entree. They make their smoothies with local fresh fruit, and only serve fresh vegetables. Don't miss the french toast served with nutmeg syrup, featured on their breakfast menu.
Nature Walks
La Sagesse Nature Center hires private guides, who take you on nature walks throughout the area. Be sure to bring your camera.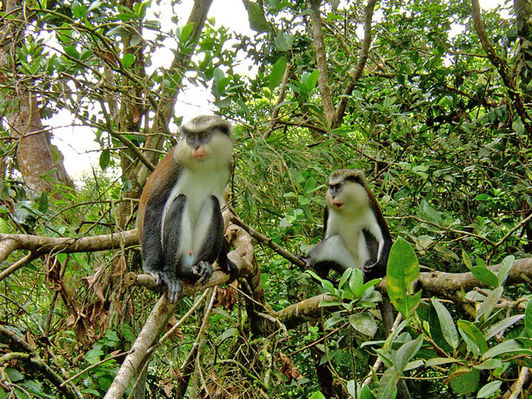 The salt pond at La Sagesse is home to a diversity of species such as the Caribbean Coot, the Brown Crested Flycatcher, the Northern Jacuna, the Green Backed and the Little Blue Heron. Mona Monkeys, brought over from Africa, roam through the forest. Your guide may also teach you how to enjoy the secret treats of the forest, such as edible berries. If you're lucky, he may even introduce you to the joys of drinking coconut milk straight from the coconut! If you are not staying at La Sagesse Nature Center, you can book a package that includes a nature walk and lunch, or a nature walk and dinner. Contact La Sagesse at (473) 444-6484 for details. They can arrange transportation if necessary.
Content provided by Columbus Travel Media Ltd. © 2014. By its very nature much of the information in this travel guide is subject to change at short notice and travellers are urged to verify information on which they're relying with the relevant authorities. Travmarket cannot accept any responsibility for any loss or inconvenience to any person as a result of information contained above. Event details can change. Please check with the organizers that an event is happening before making travel arrangements. We accept no responsibility for any loss, injury or inconvenience sustained by any person resulting from information published on this site.
Found a problem with our Destination Guides? Please report any issues by completing our
Bug Report Form
How can we make improvements?
If you have a suggestion for improving our destination guides, please submit them to our
Suggestion Box