Dominican Republic
Dominican Republic Travel Guide
Dominican Republic Travel Guide
The Dominican Republic is the Caribbean's most geographically diverse country, showcasing everything from tropical rainforests and alpine ranges to mangrove swamps and desert expanses. These natural gifts offer superb adventure travel and eco-tourism options, catering for mountain-bikers, trekkers, watersport fanatics among other outdoor enthusiasts.
A heady blend of Caribbean rhythms, American influences and European ancestry, today's Dominican Republic is as much defined by its booming music and a passion for all things baseball as by its time-faded colonial heritage. But while many overseas visitors are drawn by the all-inclusive resorts peppering the north and east coasts, to consider the Dominican Republic as just another palm-fringed beach bolthole is to sell it short.

Capital Santo Domingo's Zona Colonial is rich in remarkable architecture, and makes the most natural starting point for cultural visitors, particularly those who like their music loud: throughout the country, fast-step merengue and guitar-based bachata blare from storefronts and taxis.
Key Facts
Capital

Santo Domingo.

Geography

The Dominican Republic shares the Caribbean island of Hispaniola with the nation of Haiti. It is larger than its French-speaking neighbour, making up the eastern two-thirds of the landmass. A series of mountain belts stretch across the border region, most notably in the form of the Cordillera Central; at 3,175m (10,414ft) the peak of Pico Duarte represents the highest point of the country.

The Dominican landscape is frequently forested and often undulating, with a multitude of valleys, plains and plateaux. The soil is fertile with excellent white beaches on the north, southeast and east coasts. Ten per cent of the country was set aside in the 1970s to be protected as national parks and science reserves, and, in spite of occasional hurricanes and fires, these areas remain largely intact. Today there are 17 national parks in the Dominican Republic.

Capital city Santo Domingo sits on the south coast (providing a popular stop-off for cruise ships), while the country's second largest city, Santiago, is located in the central northwest region.

The Reserva Cientifica Banco de Plata is an underwater park located off the north coast, set up to preserve a breeding ground for the thousands of humpback whales that visit each winter.

Government

Republic. Gained independence from Haiti in 1844.

Head Of State

President Danilo Medina since 2012.

Head Of Government

President Danilo Medina since 2012.

Electricity

110 volts AC, 60Hz. American-style two-pin plugs are in use.
Dominican Republic history, language & culture
Christopher Columbus discovered the island of Hispaniola (the island now containing the Dominican Republic and Haiti) in 1492, and established it as his main base for the further exploration of the region.

In 1697, the western part of the island came under French control, with the east remaining under Spanish control.

A century later, the city of Santo Domingo (the oldest city in the Americas), which was founded by Columbus' brother in 1946, was ceded to the French; the rest of the island soon followed suit.

The battle of Palohincado, in 1808, heralded the collapse of French rule in the eastern part of the island. The colony reverted to Spanish sovereignty the following year, and in 1821, the colonial treasurer, José Nunez de Caceres, proclaimed Santo Domingo's independence.

This independence was short-lived, however, as in 1822, the Haitians invaded the colony and occupied it for 22 years, until, on 27 February 1844, the territory of Santo Domingo recovered its sovereignty and declared independence as the Dominican Republic.

After years of civil war and US occupation, the Republic was ruled by the dictatorship of General Rafael Trujillo (1930-1961), whose assassination led to a period of civil unrest.

Under the control of President Joaquin Balaguer, the country became reasonably stable. After defeat to Guzman Fernandez in the 1978 elections, Balaguer was re-elected four times consecutively between 1986 and 1995.

In November 1995, amid a cycle of protests and strikes caused by a serious energy crisis, steep inflation and deterioration of public services, Balaguer was forced to stand down, with Leonel Fernandez becoming President.

In May 2000, despite failing health, Balaguer took one more shot at the Presidency, but this ended in defeat at the hands of PRD candidate Hipolito Mejia.

Four years later, Fernandez became president again after promising to reduce inflation, stabilise the exchange rate and restore investor confidence. The President was elected into a third term in 2008.
Culture
Religion
Almost all Christian, with 95% Roman Catholic; there are small Protestant and Jewish minorities.
Social Conventions
The Dominican lifestyle is a mixture of American and Latino reference points. Though the culture is rich in Roman Catholic and Spanish influences, for example, 72-hour divorces may be obtained.

Daytime dress is generally casual but beachwear and shorts are only acceptable in resorts and at pools; it is rare for locals to enter a church wearing shorts or a T-shirt. In many areas, evenings tend to be smarter, with dressing up common at better restaurants, hotels and for social functions. Despite a relatively conservative culture, meanwhile, young female visitors to towns and cities are likely to draw attention, not always of the respectful kind.

Language
Spanish is the official language. Some English and French are spoken.
Dominican Republic weather, climate and geography
Climate
Best Time To Visit
Hot with tropical temperatures all year with coastal areas being warmer than central regions. There are two rainy seasons; the heaviest is from May to August and the other is from November to December. Hurricanes may sometimes occur during these periods.
Required Clothing
Lightweight fabrics are best suited to the tropical temperatures. Waterproofs are essential during the rainy seasons.
Geography
The Dominican Republic shares the Caribbean island of Hispaniola with the nation of Haiti. It is larger than its French-speaking neighbour, making up the eastern two-thirds of the landmass. A series of mountain belts stretch across the border region, most notably in the form of the Cordillera Central; at 3,175m (10,414ft) the peak of Pico Duarte represents the highest point of the country.

The Dominican landscape is frequently forested and often undulating, with a multitude of valleys, plains and plateaux. The soil is fertile with excellent white beaches on the north, southeast and east coasts. Ten per cent of the country was set aside in the 1970s to be protected as national parks and science reserves, and, in spite of occasional hurricanes and fires, these areas remain largely intact. Today there are 17 national parks in the Dominican Republic.

Capital city Santo Domingo sits on the south coast (providing a popular stop-off for cruise ships), while the country's second largest city, Santiago, is located in the central northwest region.

The Reserva Cientifica Banco de Plata is an underwater park located off the north coast, set up to preserve a breeding ground for the thousands of humpback whales that visit each winter.
Doing business & staying in touch
It is usual for businesspeople to dress smartly and to deal formally with each other at first, although the general atmosphere is informal. Spanish is the main business language and a knowledge of it will be of assistance. Hotels can usually assist with interpreter services.

Office Hours
Mon-Sat 0800-1200 and 1400-1800.

Government office hours: Mon-Fri 0800-1500.
Economy
Often pointed to as being the largest in the Caribbean, the Dominican Republic's economy relies largely on agricultural cash-crops and the mining industry. Other industrial investments are food, drinks, chemicals and the refining of imported oil. Tourism is another major player, and the country's service sector has now overtaken agriculture as the main employer.

The economy has experienced some problems with growth and unemployment, both of which remain a difficulty. Latest official figures on unemployment show that levels are stuck at around 14.2%. Another key problem is income inequality; the poorest half of the population receives less than one-fifth of GNP, while the richest 10% has nearly 40%. It's not uncommon to see gleaming new 4x4 vehicles bumper-to-bumper with rusting, rasping old hatchbacks. The country relies on substantial foreign aid.

The Dominican Republic is a member of CARICOM, the major regional trading bloc.

GDP
Main Exports
Ferronickel, sugar, gold, coffee and cocoa.
Main Imports
Food, petroleum, cotton, chemicals and pharmaceuticals.
Main Trade Partners
Venezuela, Colombia, Mexico and USA.
Commercial Contacts
Cámara de Comercio y Producción de Santo Domingo
Telephone: (809) 682 2688
Website: http://www.camarasantodomingo.org.do/
Address:
Arzobispo Nouel 206
Apartado Postal 815
Santo Domingo
Dominican Republic

Telephone
CODETEL (owned and operated by Verizon), Dominican Republic's telecommunications company, has produced the 'Comunicard', which enables tourists visiting the country to phone anywhere abroad from any touch-tone phone.
Mobile Telephone
Roaming agreements exist with a number of international mobile phone companies. Coverage is good along most coastal areas and around towns but patchy elsewhere. There is a 3G network.
Internet
The number of Internet cafés is rapidly growing as the Dominican Republic embraces the Internet. Expect to pay between 20 and 35 pesos for 30 minutes' use.
Post
Airmail takes about 10 days to reach Western Europe. It is advisable to post all mail at the central post office in Santo Domingo to ensure rapid handling.
Media
The ownership of newspapers, TV channels and radio stations lays in the hands of a few economically or politically powerful benefactors. There are several terrestrial TV channels and some 30 multichannel cable TV operators. Most of the 200-plus radio stations are commercial. Rumba FM is typical of Santo Domingo's lively earful of merengue and salsa music stations.

Press freedom is protected by law. Consequently, media outlets carry diverse political views although some subjects, such as the Catholic Church and the army, are generally avoided. Daily papers are in Spanish and include El Caribe, Hoy, Listín Diario and El Nacional. The English-language Santo Domingo News is published weekly on Wednesday and can be obtained in many hotels. There are online English-language news services at www.dominicantoday.com and www.dr1.com.
Travel to Dominican Republic
Getting There By Air
The Dominican Republic's former national airline was Air Santo Domingo (EX), which has now merged with Servicios Aéreos Profesionales.
Departure Tax
A departure tax of US$20 is levied on all passengers. Passengers should check with their airline as this may already be included in the price of the airline ticket.

A 'Stay tax' is levied on all passengers staying longer than three months: RD$60 (three to nine months); RD$100 (nine to 12 months) or RD$160-600 (one year or more).

Note: When buying an international air ticket in the Dominican Republic a tax of approximately 12% is levied on the carrier by the government. This expense is passed on directly to the customer on the price of the ticket. If the ticket is bought outside the Dominican Republic, there is no tax.
Cruise Ships
Some international cruise lines call at the Dominican Republic.
Where to stay in Dominican Republic
Hotels
There is a good selection of hotels in the Dominican Republic. The county boasts the largest room supply in the entire region, much of it focused on the southeast coast, noted for its modern hotels and beautiful beaches. The resort of Cap Cana, is one of the largest in the Caribbean, with 10,000 new holiday properties. In the capital, the hotel choice ranges from plush to basic to shabby.

Note: At resort hotels winter prices are higher and, in summer, prices drop by up to 10%. Hotels outside Santo Domingo and La Romana are considerably less expensive, whatever the season. A service charge of 10% and a 12% sales tax will be added to all bills.

Grading: There is a 5-star grading system, but visitors should note that the highest grade is not always as strong in standard as is usual in the Caribbean.
Bed And Breakfast
Bed and breakfast hotels and guesthouses can be found in the main tourist areas, including Santo Domingo, Playa Dorada and Puerto Plata.
Camping Caravaning
There are few official sites. Camping is possible in rural areas with permission from the landowner. National parks are also available for camping with the permission of the National Parks Office.
Other
Self-catering establishments are available in Puerto Plata at very reasonable rates.
Dominican Republic travel advice
Last updated: 26 May 2014
The travel advice summary below is provided by the Foreign and Commonwealth Office in the UK. 'We' refers to the Foreign and Commonwealth Office. For their full travel advice, visit www.gov.uk/foreign-travel-advice.
The hurricane season in the Dominican Republic runs from June to November. You should monitor weather updates and track the progress of approaching storms. See Hurricanes.
98,300 British nationals visited the Dominican Republic in 2012. Most visits are trouble-free, but there are incidents of crime and violence.
Don't become involved with illegal drugs of any kind. There are severe penalties for all drug offences. A number of British nationals are serving prison sentences for attempting to traffic drugs.
Credit card cloning and fraud are common. It's generally safer to use cash.
There is a low threat from terrorism in Dominican Republic.
The Overseas Business Risk service offers information and advice for British companies operating overseas on how to manage political, economic, and business security-related risks.
Take out comprehensive travel and medical insurance before you travel.
Contact Addresses
Embassy and Consulate of the Dominican Republic in the USA

(202) 332 6280 ; (202) 332 7670 (consular section).

http://www.domrep.org

Mon-Fri 1000-1400 (general); Mon 0930-1230, Tues 1300-1600, Wed 0930-1230, Thurs 1300-1600, Fri 0930-1230 (consular section).


NW
1715 22nd Street
Washington
20008
Dominican Republic


Embassy of the Dominican Republic in the UK

0905 677 0054.

http://www.dominicanembassy.org.uk

Mon-Fri 1000-1400 (consulate).


Bayswater
139 Inverness Terrace
London
W2 6JF
United Kingdom


British Embassy in the Dominican Republic

(809) 472 7111 ; (809) 472 7111 (consular enquiries).

http://www.ukindominicanrepublic.fco.gov.uk

Mon-Thurs 0800–1300 and 1400–1630, Fri 0800-1300.


Edificio Corominas Pepin
Ave 27 de Febrero No 233
Santo Domingo
Dominican Republic

Dominican Republic Passport And Visa Requirements
| | Passport Required | Visa Required | Return Ticket Required |
| --- | --- | --- | --- |
| British | Yes | 1 | Yes |
| Other EU | Yes | 1 | Yes |
| USA | Yes | 1 | Yes |
| Canadian | Yes | 1 | Yes |
| Australian | Yes | 1 | Yes |
Passport Info
A passport valid for six months is required by all nationals referred to in the chart above to enter the Dominican Republic.
Visa Info
1. Nationals listed in the chart above do not require a visa, but they do require a tourist card. You can buy this in advance from the embassy or at the airport.
Business travellers do require a visa; contact the embassy for further information.
Visa Note
Nationals not referred to in the chart are advised to contact the embassy to check visa requirements for the Dominican Republic.
Types And Costs
Tourist card: £10 from the embassy or US$10 at the airport. Some nationals not listed above require tourist visas; check with the embassy for details and costs.
Validity
Tourist cards are valid for 30 days from the date of entry.
Consulate (or consular section at embassy), online or by post. You can also obtain a tourist card at the airport on arrival, but as there are often queues, it can be worth buying it in advance.
Working Days
Allow one to two days if you order your tourist card online from the embassy and seven days if you apply by post.
Dominican Republic Health Care & Vaccinations
| Vaccination identifier | Special precautions |
| --- | --- |
| Diphtheria | Yes |
| Yellow Fever | No |
| Typhoid | Yes |
| Tetanus | Yes |
| Rabies | Sometimes |
| Malaria | Sometimes* |
| Hepatitis A | Yes |
Vaccinations Note
* Malaria risk exists throughout the year, especially in the western provinces and in La Altagracia province. Risk in other areas is low to negligible.
Health insurance (to include emergency repatriation) is strongly recommended. Medical care is limited and variable in quality. An emergency service is available in Santo Domingo.
Food Drink
All water should be regarded as being potentially contaminated and sterilisation should be considered essential. Water used for drinking, brushing teeth or making ice should have first been boiled or otherwise sterilised. Milk is pasteurised. Only eat well-cooked meat and fish. Vegetables should be cooked and fruit peeled.
Other Risks
Vaccinations for tuberculosis and hepatitis B are sometimes recommended. Bilharzia (schistosomiasis) is endemic; avoid swimming and paddling in fresh water. Outbreaks of dengue fever occur in the area. Rabies may be present. For those at high risk, vaccination before arrival should be considered. If you are bitten, seek medical advice without delay.
Public Holidays in Dominican Republic
Below are listed Public Holidays for the January 2014-December 2015 period.
Money & Duty free for Dominican Republic
Currency Information
Dominican Peso (DOP; symbol RD$). Notes are in denominations of RD$2,000, 1,000, 500, 100 and 50. Coins are in denominations of RD$25, 10, 5 and 1.
Credit Cards
American Express, Diners Club, MasterCard and Visa are all accepted.
ATMs
Most ATMs in the Dominican Republic accept international bank cards.
Travellers Cheques
Traveller's cheques are accepted by some banks. To avoid additional exchange rate charges, travellers are advised to take traveller's cheques in US Dollars.
Banking Hours
Mon-Fri 0800-1500, Sat 0900-1300. In shopping centres: Mon-Fri 0900-1900, Sat 0900-1300.
Currency Restrictions
The import and export of local currency is limited to RD$20,000 in notes and RD$100 in coins; the import of foreign banknotes is allowed provided they are declared on arrival and if they are over US$10,000 and re-export is intended.
Currency Exchange
The peso is not available outside the Dominican Republic. Currencies of Canada, France, Germany, The Netherlands, Spain, Switzerland, UK and USA may be converted into local currency. On departure, up to 30% of the exchanged currency can be reconverted into US Dollars at any bank, provided original receipts are shown. All exchange must be done through official dealers such as banks and hotels approved by the Central Bank. Most resorts quote prices in (and are happy to accept) US Dollars. Some street vendors in touristic areas also accept US Dollars although these are not legal tender in the country.
Duty Free
The following goods may be imported into the Dominican Republic by travellers over 16 years of age without incurring customs duty:
- 200 cigarettes or 1 box of cigars.
- 2L of alcoholic drinks (unopened).
- 2 bottles of perfume (opened) for personal use.
Banned Imports
All animal products, agricultural and horticultural products and drugs.
Firearms and ammunition must be accompanied by an import licence.
Things to see and do in Dominican Republic
Casa de Campo
This vast resort offers a smorgasbord of different activities, from horseback riding, shooting and tennis to scuba-diving, riverboat fishing and golf. Its "Teeth of the Dog" golf course has received numerous international accolades (www.casadecampo.com.do).
Catch some baseball
Baseball isn't so much the national sport as the national obsession - male and female, young and old, they're all hooked. The domestic seasons lasts from October until late January, providing a chance to experience the game in all its noisy, rum-fuelled glory.
Columbus Lighthouse
A colossal cross-shaped monument to Christopher Columbus, the 'lighthouse' (rarely used as such) doubles as a world museum. The explorer's remains are kept here under a grand sarcophagus.
Dance, dance, dance
Throw yourself into Santo Domingo's nightlife by dancing to down-and-dirty merengue with the locals along Avenida Venezuela's row of nightclubs and 'super-colmadons'. City boardwalk the Malecon has a number of further lively options.
Drink like a local
Order a cuba libre servicio - a small bottle of rum, a coke and a bucket of ice - from one of the country's omnipresent colmadons (grocery stores-cum-bars) and practice your Spanish on the locals.
Join the carnival
The city of La Vega bursts to life each February for its annual carnival, renowned as the most colourful and raucous in the country. More than 100,000 people cram the streets over the last weekend of the month.
Lago Enriquillo
Populated by countless flocks of tropical birds (and a healthy population of crocodiles), Lago Enriquillo is a spectacularly large salt-water lake near the Haitian border.
Mount Isabela de Torres
Close to Puerto Plata, Mount Isabela de Torres provides exceptional views of the ocean and surrounding landscape. Adventurous sorts can climb it under their own steam; others might prefer the cable-car.
Mountain-biking
The country's geographical diversity makes the interior great for mountain-biking, with the Cordillera Septentrional a particularly good choice. Iguana Mama (www.iguanamama.com) offer this and other adventures.
Museo del Hombre Dominicano
Santo Domingo's best museum gives a fascinating look at the country's anthropology, with a focus on sculptures and artefacts relating to the Tainos, the island's original inhabitants (www.museodelhombredominicano.org.do).
Offshore fishing
Those staying at coastal resorts won't have to look far for the chance to go offshore fishing - hotels, in fact, can usually arrange the activity themselves. Marlin, dorado and sailfish are among commonly found game fish.
Pick up some amber
Arguably the most authentic Dominican souvenir on the market, amber is widely available at reasonable prices; the semi-precious stone is usually set in jewellery. Be mindful, however, of fakery.
Puerto Plata
The northern city has an absorbing Old Town, most notably in the form of the Fort San Felipe, first constructed by the Spaniards in 1540 as both a defensive outpost and a keep for captured smugglers.
Tee off
Enjoy a round of golf under the Caribbean sun. Several of the country's courses enjoy dramatic ocean-facing settings. For more information, contact the Federation of Dominican Golf (FEDOGOLF) (www.golfdominicano.com).
Whale watching
When thousands of humpback whales make their annual winter arrival off the Samana headland, it makes for an incredible spectacle. The season generally stretches from mid-January to mid-March.
Windsurfing
The waters around Cabarate on the north coast are said to offer the best windsurfing in the Americas. Equipment can be easily rented - beginners are best off taking to the sea in the early morning.
Zona Colonial
Santo Domingo's Zona Colonial boasts some of the most important buildings in the Americas, including the grand building that Columbus' son called home and the cathedral built to proselytise the region.
Shopping & nightlife in Dominican Republic
Best buys are products made on the island including amber jewellery and decorative pieces. These are a national speciality; some pieces encase insects, leaves or dew drops within the ancient petrified pine resin. Larimar or Dominican turquoise is another popular stone. Milky blue and polished pink pieces of conch shell are also made into jewellery. Rocking chairs, woodcarvings, macramé, pottery, Taino artefacts, Creole dolls, baskets, limestone carvings and CDs of salsa and merengue also make good buys. Bargaining is recommended, and in most cases expected.
Opening Hours
Mon-Sat 0800-1200 and 1430-1830.
Nightlife
Choice varies from discos and casinos to cafés and festivals. Hotels offer more traditional shows, including folk music and dancing. Popular dances are the inescapable merengue, played at head-shaking volume almost everywhere; bachata (a less frenetic, guitar-based genre becoming very popular across the country); son (a slow-dance imported from Cuba and especially prevalent in the capital); perico ripiao (a type of merengue); and salsa. The Malecón, Santo Domingo's long waterside boulevard, is known for its nightlife. Concerts and other cultural events are often held at the Casa de Francia and Plaza de la Cultura in Santo Domingo.
Food and Drink in Dominican Republic
Native Dominican cooking combines Spanish influences with local produce. There is plenty of fresh fish and seafood; island-grown tomatoes, lettuce, papaya, mangoes, passion fruit and citrus fruits are delicious.
Regional Specialities

- La bandera (meaning 'the flag', comprising white rice, red beans, stewed meat, salad and fried plaintain).
- Chicharrones (crisp pork rind).
- Chicharrones de pollo (small pieces of fried chicken).
- Sopa criolla dominicana (native soup of meat and vegetables).
- Pastelón (baked vegetable cake).
Things To Know
Beef is expensive (Dominicans raise fine cattle, but most is exported). Local favourites are pork, chicken and goat meat. Locally produced beer and rums are cheaper than imported alcohol which tends to be expensive.
Tipping
Hotel and restaurant bills automatically include a 10% service charge (on top of a 12% charge for tax purposes) but an additional tip may be given as an appreciation of good service.
Drinking Age
Getting around in Dominican Republic
Getting Around By Air
Servicios Aéreos Profesionales (www.sapair.com) runs regular flights between Santo Domingo, Santiago, Samaná, Punta Cana and Puerto Plata. Planes may also be chartered.
Road Quality
Not all roads in the Dominican Republic are all-weather and 4-wheel drive vehicles are recommended for wet weather. Checkpoints near military installations are ubiquitous, though no serious difficulties have been reported (those near the Haitian border are most likely to be sensitive). Keep doors and windows locked at all times. Driving at night is not recommended because of poor lighting and and signage.
Car Hire
There are several car hire companies in Santo Domingo. The minimum age for car hire is 25. A credit card is required for car hire transactions. Insurance is compulsory.
Taxi
Travellers are advised to hire tourist taxis or radio taxis that can be arranged in advance. Avoid unmarked taxis.
Regulations
The speed limit is up to 60kph (38mph) in cities and 80-100kph (50-63mph) on motorways. Seat belts are legally required to be worn.
Documentation
A national or International Driving Permit is accepted, but is only valid for 90 days.
Urban Travel
Santo Domingo has flat-fare bus and minibus services, and an estimated 7,000 share-taxis called Carro de Conchos. These operate a 24-hour service in Santo Domingo, Santiago and Puerto Plata. Hotel taxis are also available. In old Santo Domingo, the streets are narrow with blind corners, so care should be taken, particularly as Dominican drivers have a tendency to use their horns rather than their brakes. Horse-drawn carriages are available for hire in tourist areas for tours around parks and plazas.
Events in Dominican Republic
Dominican Republic Global Film Festival
Saturday November 15, 2014
Thursday November 20, 2014

Date To Be Confirmed

The annual Global Dominican Film Festival takes place in November in cities across the Dominican Republic. The festival provides a platform for local film producers to showcase their works, featuring themes ranging from local stories to international issues.

Various venues in Santo Domingo, Santiago, Puerto Plata, Nagua, Capcana and Higuey.

http://www.drglobalfilmfestival.org
Santo Domingo Carnival
Sunday February 01, 2015
Saturday February 28, 2015

Date To Be Confirmed

Experience the effervescent sights, sounds and smells of the Dominican carnival during the month of February. While carnival celebrations are popular throughout the country, Santo Domingo's festivities are on a large-scale and take place each weekend in February. A parade runs along Avenida Malecón, the embankment thoroughfare in Santo Domingo; bringing a splash of colour, music and revelry to the capital.

Malecón, Santo Domingo


Avenida Malecón
Santo Domingo
Dominican Republic
Dominican Republic Jazz Festival
Friday November 25, 2011
Sunday November 27, 2011

Date To Be Confirmed

Dominican Republic Jazz Festival takes place every November on the north coast of the country. While concerts from some of the region's top jazz artists dominate, other events such as master classes and workshops contribute to the festivities.

Cabarete, Dominican Republic.

http://www.drjazzfestival.com
La Vega Carnival (Sunday's only.)
Thursday February 05, 2015
Thursday February 26, 2015

Date To Be Confirmed

TBC.

La Vega Carnival celebrates the Dominican Republic's African heritage in the country's most famous carnival every Sunday in February. The carnival also coincides with the Independence Day celebrations, with colourful costumes and Caribbean rhythms setting the pulse racing.

Various venues.
Cruise cities in Dominican Republic
Dominican Republic (Puerto Plata)
Music-drenched Puerto Plata is a haven of dance halls and bars that attract salsa bands and merengue stars from all across the Caribbean. Affordable ocean-facing beach hotels hem the shoreline with world-class windsurfing, snorkelling and diving - not to mention whale-watching. Meaning 'Port of Silver' in Spanish, Puerto Plata was founded in 1502, but owes much of its charm to pastel-coloured Victorian-era architecture and a handsome seaside boulevard. A popular gateway to the rest of the North Coast resorts; the mountains, cigar factories and ceramic-makers out to Santiago; and the jungles of Jarabacoa.
Sightseeing
Historical attractions and cultural sights in and around Puerto Plata, from the 16th-century harbour close to San Felipe Fort to the Caribbean's only aerial tramway. Atop the mountain a replica of Christ the Redeemer (the famous statue in Rio de Janeiro) holds court high above Puerto Plata. Other attractions include the pre-Columbus collection at the Taino Art Museum and the Amber Museum; a fine exhibit that includes the piece used in Jurassic Park.

Highlights:
- Ocean World, Cofresi
- Parque Historico La Isabela
- Isabel de Torres National Park
- Playa Dorada (Dorada Beach)
- Playa Maimon (Maimon Beach)
- Parque Nacional del Este
- Playa Luperon (Luperon Beach)
Tourist Information
Dominican Republic Tourism
18-21 Hand Court, London WC1V 6JF, UK
Tel: 020 72427778 / Fax: 44-20 74054202
Website: www.godominicanrepublic.com
Shopping
Dubbed the Amber Coast for its plentiful deposits of the semiprecious stone, Puerto Plata's shoreline stalls sell an eclectic range of amber trinkets, jewellery and crafts. In the city, some fine boutiques specialise in amber-set silver jewellery, larimar (a Dominican turquoise) and inlaid creamy-blue and baby-pink shell. Pieces of conch shell are also made into jewellery. Other locally made must-buys include cigars, pottery, coffee, rocking chairs, carved woods, macramé, Taino artefacts, Creole dolls, basketry, Haitian paintings and limestone carvings. Music-loving Puerto Plata is also a great place to pick up inexpensive CDs of salsa and merengue - but don't be afraid to haggle.
Eating Out
Culinary specialties revolve around simple fare that stems from native Antillean and hearty Creole recipes. Dishes have a distinctly Latin American flavour with rice, seafood, meats and fresh vegetables cooked in light spices and coconut. Typical dishes range from Sancocho prieto (a thick soup of seven meats, including goat); arros con marisco (seafood & rice) and mangu (mashed plantains) - washed down with rum or El Presidente beer.
When To Go
Hot with tropical temperatures all year with coastal areas being warmer than central regions. There are two rainy seasons; the heaviest is from May to August and the other is from November to December. Hurricanes may sometimes occur during these periods.
Nearest Destination
Willemstad.
Transfer Distance
1.5km (0.9 miles).
Transfer Time
Willemstad.
Social Conventions
A strong American attitude prevails in the Dominican Republic, overpowering the influences born out of its Latin origins in all but food, religion and the tradition of the siesta. Beachwear may be acceptable at the island's resorts and pools but is certainly frowned on at Puerto Plata's better restaurants, clubs and hotels where standards are higher.

Tipping: Hotel and restaurant bills automatically include a 10% service charge (on top of a 12% charge for tax purposes). A typical gratuity for porters is a dollar a bag; round up taxi fares.
Key Facts
Time Zone
GMT - 4.
Currency
Dominican Republic Peso (DOP; symbol RD$) = 100 centavos.
Language
Spanish is the official language, with some English and French spoken.
Location
North-central coast of the Dominican Republic, which shares the island of Hispaniola with Haiti.
Population
130,000.
Government
Republic. Gained independence in 1865, after successive attempts.
Religion
Largely Roman Catholic with small Protestant and Jewish minorities.
7 day forecast for Dominican Republic (Puerto Plata), Dominican Republic
Read About Dominican Republic
Punta Cana Renaissance- New upgrades and resorts are rapidly transforming the Seascape
Punta Cana Renaissance- New upgrades and resorts are rapidly transforming the Seascape
Susan Campbell
s.mc@videotron.ca
Thursday 24th of March 2011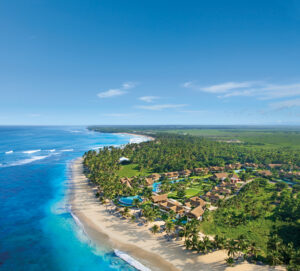 After a few false starts and many growing pains, Punta Cana on the Dominican Republic's eastern coast, might truly begin living up to the hype of becoming the "new" ultimate tropical vacation destination. Over the past two years, ambitious plans for massive upgrades in existing accommodations, services, and amenities, plus the completion of many luxurious new resorts have successfully come to fruition largely thanks to enthusiastic European and American investors. Lately, the seascape has been changing so rapidly that it's hard to tell the players without a program. But beyond the new Hard Rock Café Complex which opened January 2011, by far the most prominent assortment of new developments will all fall under the massive AMResorts umbrella as they plan to have no less than ten luxurious tropical escapes firmly planted in the Punta Cana sands by the end of 2013.

Far above and beyond the "all-inclusive" concept

A brief peek inside the two flagship AMResorts properties that bookend Cap Cana's long and lavish sandy stretch reveals what will ultimately be the blueprint for their ongoing and future success on this island. "Unlimited Luxury" and "Endless Privileges" are their trademarked ways of saying "all-inclusive" without projecting a perception of typical "party-prisons"--cheap rum in plastic glasses, garish identity bracelets, annoyingly perky activity directors... you won't find any of those in these enclaves. What you will find is an abundance of choices, very personal service, and the ultimate in luxurious offerings all included in a set price with no hidden charges at check-out time.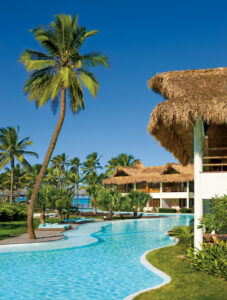 Zoëtry Agua Wellness & Spa Resort
Officially classified as a Preferred Boutique resort, Zoëtry's new age name was inspired by the Greek word for life "zoë" and the definition of poetry as "artful creation"—together they create "the art of life. ' The additional agua tag reflects their objective to offer total rejuvenation through water. There are 51 Caribbean style thatched suites, some with private dipping pools and others with swim-out options. My deck was directly connected to a serpentine water passage that flowed to an infinity waterfall pool that led down to the ocean. That one little refreshing journey with a stop at the adjacent Jacuzzi and then a dip in the warm sea had me understanding "the art of life" in no time. But if that isn't enough to have you feeling virtually waterlogged in luxury, you can head for the spirit-soothing hydrotherapy circuit at the stand alone spa. All kinds of H20 healing awaits in a massive thermal pool replete with water-jet lounges, waterfalls, and a lovely Zen garden. This is where you can enjoy your complimentary massage or opt for some of their specialized organic treatments.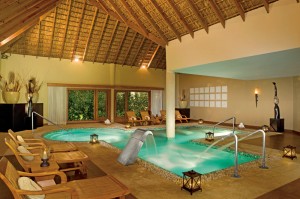 And though Zoëtry is not officially adult-exclusive, it's not really conducive to family holidays either, so the only serenity-piercing shriek you're likely to hear is that of "Paco" the resident peacock . (After you realize where that blood-curdling cry came from, you'll find their official mascot quite comical as he struts around like he owns the place!)
There are far too many perks involved in the Endless Privileges concept to list, but a few noteworthy mentions are unlimited top shelf spirits, beer and wine, 24-hour room service, 24-hour concierge, 24-hour laundry, complimentary helicopter shuttle for premium room guests, unlimited dining at three fusion cuisine restaurants, and an eclectic host of guest enrichment programs and thoughtful extras like fresh cut flowers and daily in-room champagne and fruit baskets. Oh yes, and another BIG extra is FREE world wide calling 24/7!

Secrets Sanctuary Cap Cana

With 176 rooms to choose from in a sprawling gated sanctuary, your holiday home can be in a modern fortress castle, a charming Caribbean palapa, or a stylish colonial villa. But regardless of where you choose to hang your hat, the three separate vibes rock together seamlessly like a hammock in the tropical breeze. The stunning resort caters to both playful and peaceful pursuits, plus the fortress Secrets Spa by Pevonia resides in a towering separate structure all of its own. Here you can recharge in the indoor/outdoor circuit of thermal pools with adjoining steam room and sauna and also partake of a comprehensive menu of spa services. The impressive fortress is also home to the lavish swim-out castle honeymoon suites leading to a private island boasting secluded seaside bed lounges.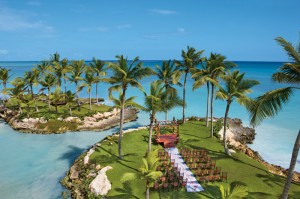 Around the central pool/beach bar you might encounter some boisterous "babes" and "dudes" playing volleyball or water ping- pong, but stroll over to the Caribbean style side (called Trump's Beach because "the Donald" owns land near it) for an ambiance perfect for serene surf-side lounging. And the infinity waterfall pool and garden of the colonial village also transports to another peaceful world away. Throughout the resort, service is unequivocally excellent with capable, cheerful, and helpful staff at every turn, and the Unlimited Luxury stamp means you have unlimited beer, wine, spirits and all meals at their dining rooms- Italian, steakhouse, Asian, seafood, fusion among them… take your pick. There's also a small casino, and nightly entertainment. In-room, you have 24-hour room service and a host of complimentary luxuries and extras as well.
Each resort has its own charms and attractions and both are close to world class golf courses. Ideally, a perfect Punta Cana vacation would entail a few days at each enclave beginning with a de-stress immersion at Zoëtry to be followed by a recharging stint at Secrets Sanctuary before re-entering the real world.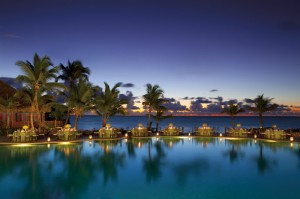 Content provided by Columbus Travel Media Ltd. © 2014. By its very nature much of the information in this travel guide is subject to change at short notice and travellers are urged to verify information on which they're relying with the relevant authorities. Travmarket cannot accept any responsibility for any loss or inconvenience to any person as a result of information contained above. Event details can change. Please check with the organizers that an event is happening before making travel arrangements. We accept no responsibility for any loss, injury or inconvenience sustained by any person resulting from information published on this site.
Found a problem with our Destination Guides? Please report any issues by completing our
Bug Report Form
How can we make improvements?
If you have a suggestion for improving our destination guides, please submit them to our
Suggestion Box