Aruba
Aruba Travel Guide
Introducing Aruba

Plan your trip to Aruba

Before you go to Aruba

While You're There

Places in Aruba

Read about Aruba

Related Articles

— IndependentTraveler.com
Aruba Travel Guide
Lean back and take it easy on Aruba: the best that Caribbean sea, sand and sunshine have to offer. Aruba's balmy breezes and relaxed pace are just the tonic for any frazzled visitor; just like the soothing aloe vera plant that is found everywhere on the island.

The surrounding waters are populated by colourful creatures such as parrotfish splashed with teal and gold, while bright pink flamingos populate the national park. Aruba's capital, Oranjestad, also dazzles: orange facades brightly array the architecture, indicating the island's historical ties with The Netherlands - Aruba's head of state is still the Dutch ruling monarch.
Key Facts
Capital

Oranjestad.

Geography

Aruba is the smallest island in the Leeward group of the Dutch Caribbean islands, which also include Bonaire and Curaçao; they are popularly known as the ABCs.

As the westernmost island of the group, Aruba is the final link in the long Antillean chain, lying 20km (12.5 miles) off the Venezuelan coast. The island is 30km (19.6 miles) long and 9km (6 miles) across at its widest, and has a flat landscape dominated by Jamanota Mountain (188m/617ft).

The west and southwest coast, known as Palm Beach, boasts 11km (7 miles) of palm-fringed powder-white sands while, in contrast, the east coast has a desolate and windswept shoreline of jagged rocks carved into peculiar shapes by the pounding surf.

Government

Constituent country of the Kingdom of the Netherlands. In 1986 Aruba separated from the Netherlands Antilles.

Head Of State

King Willem-Alexander since 2013, represented locally by Governor Fredis Refunjol since 2004.

Head Of Government

Prime Minister Mike Eman since 2009.

Electricity

110/120 volts AC, 60Hz.
Aruba history, language & culture
Alonzo de Ojeda discovered Aruba in 1499, claiming the island for Spain. However, the Spaniards did not consider the island worth colonising and left the original Arawak Indian inhabitants to live in virtual peace. The Spaniards' lack of interest resulted in the island becoming a haven for pirates and buccaneers. Spanish hegemony continued unchallenged, however, until 1634, by which time the war with Holland was well into its seventh decade. Dutch war interests then switched to the Caribbean and the Dutch fleet took over the neglected territory with little opposition. In 1643, the Dutch appointed a governor to take charge of Aruba and the rest of the Netherlands Antilles.

Except for a brief period in the early 19th century, when the British took possession, Aruba has remained under peaceful Dutch jurisdiction ever since.

On 1 January 1986, Aruba achieved internal autonomy, separating it administratively from the rest of the Netherlands Antilles, although it remains an integral part of the Kingdom of the Netherlands. This was originally conceived as the first step towards independence, for which a 10-year transitional period was planned. In March 1994, however, after consultation with the Dutch government, this plan was shelved. Independence at some later date has not been completely ruled out but it will now require the consent of two-thirds of the population in a referendum.

The reluctance to move towards independence seems to have come from the Arubans themselves, especially the leading political party, the Arubaanse Volkspartij (AVP). The AVP, under the leadership of Jan Hendrik Eman, won both two successive elections in 1993 and 1997, although suffered a heavy defeat at the hands of its major rival the centre-left Movimiento Electoral di Pueblo (MEP) at the most recent poll in September 2001. Nelson Oduber took over as Premier. Michiel Godfried assumed office in 2009.
Culture
Religion
82% of the population are Roman Catholic. There are also Protestant, Hindu, Muslim, Confucian and Jewish communities present.
Social Conventions
Much of the social activity takes place in hotels where the atmosphere will be informal, often American in feel. The islanders do not wear shorts in town though it is acceptable for visitors to do so. Bathing suits are strictly for beach or poolside. In the evenings people tend to dress up, especially when visiting the casinos. Jackets are not required for men, except for official government functions.

Language
The official language is Dutch. English and Spanish are also spoken. The islanders also speak Papiamento, which is a combination of Dutch, Spanish, Portuguese, English and Indian languages.
Aruba weather, climate and geography
Climate
Best Time To Visit
With an average temperature of 28°C (82°F), this dry and sunny island is made pleasantly cool throughout the year by constant trade winds. Short showers occur during the months of October, November and December.

Required Clothing
Lightweight clothes. Sweaters are useful for air conditioned hotels and restaurants. Some upscale restaurants do not allow shorts and T-shirts.
Geography
Aruba is the smallest island in the Leeward group of the Dutch Caribbean islands, which also include Bonaire and Curaçao; they are popularly known as the ABCs.

As the westernmost island of the group, Aruba is the final link in the long Antillean chain, lying 20km (12.5 miles) off the Venezuelan coast. The island is 30km (19.6 miles) long and 9km (6 miles) across at its widest, and has a flat landscape dominated by Jamanota Mountain (188m/617ft).

The west and southwest coast, known as Palm Beach, boasts 11km (7 miles) of palm-fringed powder-white sands while, in contrast, the east coast has a desolate and windswept shoreline of jagged rocks carved into peculiar shapes by the pounding surf.
Doing business & staying in touch
Business dress and etiquette tend to reflect that of the USA. It is usual for men to wear ties to business meetings. Exchanging business cards is the norm. Meetings are usually held during office hours in the workplace.

Office Hours
Economy
Between 1824 and 1916, the economy was based on gold mining. An oil refinery opened in the mid 1920s and was the most important commercial operation on the island until its closure in 1985. However, it was re-opened in 1991 and oil reassumed its central position in the Aruban economy. In the meantime, a sizeable tourism sector grew up. Aruba now receives 1.5 million tourists a year, 75% from the USA.

More recently, Aruba has been joined by offshore service industries, including finance and data processing. The country's free-port status, ship bunkering and repair facilities are the island's other main sources of revenue.

Light industry is limited to the production of some tobacco products, drinks and consumer goods. Agriculture is confined to small-scale activity, because of poor soil quality. Aruba is classed as an Associated Territory of the European Union.


GDP
Main Exports
Oil products, animals and animal products, art and collectibles, machinery and electrical equipment.
Main Imports
Crude oil, food and manufactured goods.
Main Trade Partners
The Netherlands, The Netherlands Antilles and Venezuela.
Commercial Contacts
Chamber of Commerce and Industry Aruba
Telephone: 582 1566
Website: http://www.arubachamber.com
Address:
PO Box 140
JE Irausquin Boulevard
Oranjestad
Aruba

De Palm Tours NV
Telephone: 582 4400.
Website: http://www.depalm.com
Address:
L G Smith Boulevard 142
Oranjestad
Aruba

Telephone
Payphones are located all over the island. International phone cards are available from petrol stations, mini markets and supermarkets.
Mobile Telephone
Roaming agreements exist with a few mobile phone companies. Coverage is average.
Internet
Many hotels offer connections. Internet cafes are also available. Aruba has several Wi-Fi hotspots (www.wifi-aruba.com).
Post Office Hours
Mon-Fri 0730-1200 and 1300-1630.
Media
Radio stations include Radio Kelkboom, Magic 96.5 and Canal 90; the oldest established newspaper (in Dutch) is Amigoe di Aruba; other papers include Aruba Today, Diario Aruba and Bon Dia; ATV and Tele Aruba are prime TV channels.
Travel to Aruba
Getting There By Air
Departure Tax
US$30. Transit passengers in Aruba for less than 24 hours are exempt. Departure tax is normally included in the ticket price.
Getting There By Water
Oranjestad. Boats dock in the heart of town and it is only a five-minute walk to the centre. However, there are also taxis available on the dock itself, plus car hire companies at the port.Many cruise ships call in on their Caribbean itineraries.
Where to stay in Aruba
Hotels
The majority of hotels are in the Palm Beach and Eagle Beach resort area on the southwest coast, offering accommodation of a very high standard. Many of these luxury hotels have beach frontage and swimming pools, plus extensive sport, entertainment and shopping facilities. Rates are much lower in the summer, which is the island's low season.
Bed And Breakfast
Many guest houses are in the Noord area not far from the main hotel area.
Other
Apartments and luxury villas are available to rent.
Aruba travel advice
Last updated: 26 May 2014
The travel advice summary below is provided by the Foreign and Commonwealth Office in the UK. 'We' refers to the Foreign and Commonwealth Office. For their full travel advice, visit www.gov.uk/foreign-travel-advice.
The British Consulate-General in Amsterdam is responsible for the delivery of consular assistance to British nationals in Aruba.
Aruba is used as a drug passageway from South America to Europe and North America. Do not leave bags unattended or agree to carry a package for anyone.
The hurricane season in the Caribbean normally runs from June to November.
There is a low threat from terrorism.
Contact Addresses
| | |
| --- | --- |
| Diplomatic Representation | |
Aruba Passport And Visa Requirements
| | Passport Required | Visa Required | Return Ticket Required |
| --- | --- | --- | --- |
| British | Yes | No | Yes |
| Australian | Yes | No | Yes |
| Canadian | Yes | No | Yes |
| USA | Yes | No | Yes |
| Other EU | Yes | No | Yes |
Passport Info
Visitors to Aruba require a passport valid for the duration of stay.

Visa Info
Visas to Aruba are not required by nationals referred to in the chart above for stays of up to 30 days. The total amount of days a person can stay in Aruba as a tourist cannot exceed 180 days per year.
Nationals not referred to in the chart above are advised to contact the embassy to check visa requirements.
Visa Note
Cruise ship passengers of any nationality do not require a visa for stops of up to 24 hours in Aruba.
Types And Costs
Short-stay Caribbean visa: €35. The Caribbean visa allows nationals who do require a visa to make short visits to Aruba, Curaçao, St Maarten, Bonaire, St Eustatius and Saba.
Validity
The Caribbean visa is a multiple-entry visa valid for six months. During this time, travellers may visit any of the countries included under the scheme for a maximum of 90 days. Each continuous period in any one country may not exceed 30 days.
Working Days
Applications for the Caribbean visa are usually processed within a week, but processing times vary depending on the country.
Aruba Health Care & Vaccinations
| Vaccination identifier | Special precautions |
| --- | --- |
| Diphtheria | Sometimes |
| Hepatitis A | Yes |
| Malaria | No |
| Rabies | Sometimes |
| Tetanus | Yes |
| Typhoid | Sometimes |
| Yellow Fever | No* |
Vaccinations Note
* A yellow fever vaccination certificate is required from travellers over six months of age arriving from infected areas.
There are excellent medical facilities and many hotels also have doctors on call. There is a modern, well-equipped hospital, as well as a medical centre. In rare circumstances, air evacuation to Curaçao may be necessary. Full medical insurance is advised.
Food Drink
Tap water is considered safe to drink. Milk is pasteurised and dairy products are safe for consumption. Local meat, poultry, seafood, fruit and vegetables are generally considered safe to eat.
Public Holidays in Aruba
Below are listed Public Holidays for the January 2014-December 2015 period.
2014

National Anthem and Flag Day
2015

National Anthem and Flag Day

National Anthem and Flag Day
Money & Duty free for Aruba
Currency Information
Aruban Florin (AWG; symbol ƒ) = 100 cents. Notes are in denominations of ƒ500, 100, 50, 25 and 10. Coins are in denominations of ƒ5, 2.5 and 1, and 50, 25, 10 and 5 cents.

The Aruban Florin is tied to the US Dollar.
Credit Cards
Major credit cards are widely accepted by many shops and hotels. They can also be used in ATMs if the card bears CIRRUS or Plus System logos.
ATMs
They can also be used in ATMs if the card bears CIRRUS or Plus System logos.
Travellers Cheques
To avoid additional exchange rate charges, travellers are advised to take traveller's cheques in US Dollars or Euros.
Banking Hours
Mon-Fri 0800-1200 and 1330-1600. Some remain open at lunchtime.
Currency Restrictions
The export of the Aruban Florin is prohibited. The import and export of foreign currency must be declared with amounts exceeding the equivilant of US$11,000.
Currency Exchange
The US Dollar is widely accepted. Other currencies can be exchanged in banks. Currency can also be obtained from ATMs in Oranjestad.
Duty Free
The following items may be imported into Aruba without incurring customs duty:
- 200 cigarettes or 50 cigarillos or 25 cigars or 250g of tobacco.
- 1L of spirits or 2.25L of wine or 3L of beer.
- Gifts to the value of AWG400.

Banned Imports
Prohibited imports include unauthorised firearms and ammunition, and narcotics.
Restricted goods which require an import licence include plants, animals, meat and meat products, and some telecommunications equipment.
Things to see and do in Aruba
Archaeological Museum of Aruba
The Archaeological Museum of Aruba has reopened in the restored historic Ecury complex in central Oranjestad. A former family home, the building has been transformed to a state-of-the-art, 21st century museum that preserves Aruba's Amerindian cultural heritage.
Arikok National Park
The park covers one-fifth of the island's landmass and contains a multitude of plants and animals, including flamingos.
Bonbini Festival
Held every Tuesday (1830-2030) in the courtyard of the Historical Museum, the Bonbini Festival offers an insight into local customs, music and cuisine, as well as a chance to get to know the islanders.
Bubali Bird Sanctuary
Amongst this sanctuary's inhabitants are 80 migratory species including herons, egrets, gulls, cormorants and skimmers.
Carnival
Aruba's annual colourful Carnival is in January.
Cave art
Aruba's several systems of caves contain examples of cave drawings. Fontein was once used by the Arawak Indians, the original inhabitants of the island; the caves at Guadirikiri are a haven for bats; and Huliba Cave is nicknamed the 'tunnel of love'.
Chapel of Alto Vista
The Chapel of Alto Vista on the north coast boasts a 100-year-old hand-carved oak altar behind the bright yellow exterior.
Divi-divi trees
Aruba's unofficial trademark, the distinctive shape of the divi-divi trees (also known as watapanas) stretches out at alarming angles in a land of cactus in the Cunucu.
Golf
Aruba Tierra del Sol's par-71 championship 18-hole course was designed by the Robert Trent Jones II Group, renowned for protecting the natural ecology of sites.
Hit the beach
Hadicurari Beach is renowned for excellent snorkelling, Baby Beach's shallow waters are ideal for children and Palm Beach is right in front of the main hotel strip. Aruba's constant trade winds offer ideal conditions for windsurfing and kite-surfing at Arashi beach. The Hi-Winds Amateur World Challenge windsurfing tournament takes place there each June.
Hooiberg (Mount Haystack)
Hooiberg looms out of the flat landscape of the interior to the northwest of Santa Cruz. Walk up a series of several hundred steps to see across to Venezuela at the 165m (541ft) peak.
Horse riding
There are riding trips in the Cunucu (countryside) and along the coast.
Oranjestad
The capital has pastel-coloured gabled buildings which make Dutch heritage of Aruba obvious. Also here is Fort Zoutman, the oldest building on Aruba (1796), and home to the Aruba Historical Museum. Fresh fish can be bought straight from the boat at Oranjestad's daily market in the Paardenbaai (Schooner Harbour).
Santa Cruz
Spectacular boulders lie on the road north from Santa Cruz to Casibari and Ayo. They are the result of an unexplained geological catastrophe.
Seroe Colorado
Seroe Colorado has a local iguana community and is also notable for its fine beaches.
Shopping
Malls and both unique and designer stores can be found in Oranjestad's Caya GF Betico Croes. Duty-free shopping is the main lure.
Snorkelling
Aruba has 40 dive sites where visitors can look for one of the vivid parrotfish or dive amongst the wreck of a WWII German freighter. The coral at De Palm Island is great for snorkeling.
Shopping & nightlife in Aruba
As a 'free zone', duty on most items in Aruba is so low that shopping here can have obvious advantages. Stores carry goods from all parts of the world and there are some excellent buys, including perfume, linens, jewellery, watches, cameras, crystal, china and other luxury items plus a range of locally made handicrafts. Aloe grows in abundance on Aruba, and skin care products are manufactured locally.
Opening Hours
Mon-Sat 0800-1800; some shops close for lunch between 1200-1400. Shops in malls and shopping centres may open 0930-1800 and may open Sundays when cruise ships are in port.
Nightlife
There is one drive-in and one indoor cinema screening the latest blockbusters. The highlight of Aruba's nightlife, however, is the casinos; most open from 1100 until the early morning, with a few opening 24 hours. Hotel bars usually offer live entertainment and most hotels run theme nights. Alternatively, there are several cocktail bars and nightclubs in Oranjestad; join one of the party buses for a lively pub tour. Another option is one of the party cruises, usually offering dinner, drinks and entertainment.
Food and Drink in Aruba
Not much food is grown locally, but the variety in the local cuisine is extensive. There is a very wide range of international cuisine and several of the more famous fast-food chains have premises on the island.
Regional Specialities

- Keshi yena (Gouda cheese packed with a spicy meat mixture of either chicken or beef and then baked).
- Stobà (lamb or goat stew).
- Cala (bean fritters).
- Pastechi (meat- or cheese-stuffed turnovers).
- Ayacas (leaf-wrapped meat rolls).
Tipping
Hotels add a 15% service charge to any food or beverage bill. Restaurants may add 15% service to the bill; if not, 10 to 15% is normal.
Drinking Age
Getting around in Aruba
Road Quality
The road system throughout the island is very good.
Car Hire
There are plenty of cars available for hire and touring by car or by 4-wheel drive jeep is one of the most pleasant ways to explore the island. Most major companies have offices in Aruba; there are also many well-established local car hire firms. The minimum age for hiring a car is 21 to 25 (maximum 65 to 70), depending on the firm.
Taxi
The main taxi office is at Pos Abou. Taxis are not metered. Rates are fixed and should be checked before getting into the cab. There is no need to tip drivers except for help with unusually heavy luggage.
Regulations
Seatbelts must be worn. Right turns on red lights are prohibited. The speed limit is 40kph (25mph) in urban areas and 60kph (37mph) outside towns.
Documentation
A valid foreign licence or an International Driving Permit, held for at least two years, are both acceptable. Insurance is recommended.
Urban Travel
A tram connects Oranjestad with the cruise ship port.
Getting Around By Water
Ferries depart daily to De Palm Island from the mainland. Crossings run every half an hour between 0900-1800.
Events in Aruba
The Grand Carnival Parade
Thursday February 19, 2015
Thursday February 19, 2015

Date To Be Confirmed

Free.

The largest carnival in Aruba is held in the capital Oranjestad on the Sunday before Ash Wednesday. This parade highlights are lots of music, spectacular floats and costumed performers in all their sequined and feathered glory.

Oranjestad
Aruba International Film Festival
Sunday June 22, 2014
Saturday June 28, 2014

Date To Be Confirmed

Varied.

Aruba plays host to brilliant cinematic geniuses including award winning actors, directors and performers from across the globe during the International Film Festival. This is also a great platform for the steadily expanding Caribbean Film Industry.

Aruba

http://www.arubafilmfest.com
Caribbean Sea Jazz Festival
Sunday October 05, 2014
Monday October 06, 2014

Date To Be Confirmed

Cas Di Cultura, Aruba's main theatre, plays host to this annual outdoor festival that features an impressive line up of local and international musicians. Headliners from past festivals include Michel Camilo, David Sandborn and Isaac Delgado amongst others.

Cas Di Cultura

http://www.caribbeanseafoundation.com
Annual Reef Care Project
Saturday July 07, 2012
Sunday July 08, 2012

Free.

This is the Annual clean-up of the Island's most popular beaches, diving and snorkeling sites. With over 900 visitors including locals and travellers, this is a great way for both parties to mingle and get to know more about each other. The clean-up is also the island's largest volunteer initiative. Volunteers are provided with lunch boxes and have the opportunity to win a number of raffle prizes.
Soul Beach Music Festival
Friday May 23, 2014
Wednesday May 28, 2014

Date To Be Confirmed

Tickets from $65 onwards.

Held on the last weekend of May, the Soul Beach Festival is a two-night concert, which has featured the likes of Sean Paul, Wyclef Jean and Alicia Keys amongst several other well known personalities.

Aruba

http://www.soulbeach.net
Dera Gai
Tuesday June 24, 2014
Tuesday June 24, 2014

Date To Be Confirmed

Free.

Dera Gai or St. John's Day originated as Aruba's harvest festival. It's celebrated throughout Aruba with traditional dance and song. The symbol of the rooster, bright red and yellow costumes are central to the event.

Across the Country
Aruba in Style
Saturday November 01, 2014
Sunday November 30, 2014

Date To Be Confirmed

Varied.

This annual international fashion and lifestyle event includes runway shows, cocktail parties, collection launches and well known designers from around the world. There are also several presentations and workshops for the media, visitors and budding fashionistas.

http://www.arubainstyle.com
Cruise cities in Aruba
Aruba (Oranjestad)
Oranjestad's palm-lined streets and pastel-painted, Dutch architecture can be seen as the cruise ship glides into port. This charming little town is best explored by foot but wheels are necessary to see Palm Beach's powdery white sand or the island's wild and windy landscapes.

The roads are not always great around the rocky desert, where goats sometimes think they have the right of way, but the rewards are giant cacti clusters, secluded coves and drop dead vistas where the sea thunders against the rocks. Cruise passengers find snorkelling, hiking, diving, fine dining and chilling out to be this Caribbean island's biggest assets.
Sightseeing
With visibility of over 27m (90ft), diving and snorkelling around the reefs, abundant underwater life and shipwrecks are excellent activities. Relax on one of the island's beautiful beaches like Eagle, Baby or Palm Beach. Hike or bike around the island or explore old gold mine ruins, a natural bridge and beautiful rock formations on a jeep tour.

Highlights
- Alto Vista Chapel
- Arikok National Wildlife Park
- Aruba Ostrich Farm
- Numismatic Museum
- Nightlife
- Casinos
Tourist Information
Aruba Tourism Authority
LG Smith Blvd, 172, Eagle Beach, Aruba
Tel: +297 582 3777.
Website: www.aruba.com
Shopping
There are no duty-free shops, except in the airport. There are plenty of other places where cruise passengers can unload cash. Aruba does offer fine Delft porcelains, embroidered linens, handicrafts, Dutch cheese, aloe vera products and fine artwork. Caya G F Betico Croes is the main shopping street but there are shopping arcades in the Palm Beach hotel zone.
Eating Out
Aruba has fine cuisine as well as specialities like keshi yena (a combo of Gouda cheese, spices, meat or seafood), sopi di pisca (fish chowder) and pan bati (sweet, pancake-like bread).
When To Go
Anytime. Though the mean temperature is 28°C (82°F), it is usually sunny and blessed with trade winds. Aruba is below the hurricane belt.
Nearest Destination
Oranjestad.
Transfer Distance
2.2km (1.3 miles).
Transfer Time
10 minutes.
Social Conventions
Much of the social activity takes place in hotels where the atmosphere will be informal. Bathing suits are strictly for beach or poolside and shorts are for tourists, except in the evening.

Tipping: Restaurants may add 10-15% service to the bill; if not, 10 to 15% is normal. Bellmen receive about US$1 per bag and the maid receives US$2 or more per night if service is good.
Key Facts
Currency
Aruba Florin or Guilder (AWG; symbol ƒ) = 100 cents.
Language
Dutch, English and Papiamento.
Location
One of the Windward Islands in the south Caribbean Sea, just north of Venezuela.
Population
101,541.
Government
Member country of the Kingdom of the Netherlands with full autonomy in internal affairs.
Religion
Roman Catholic 82%, Protestant 8%, other (includes Hindu, Muslim, Confucian, Jewish) 10%.
7 day forecast for Aruba (Oranjestad), Aruba
Read About Aruba
Aruba's Offbeat Activities
Aruba's Offbeat Activities
Susan Campbell
s.mc@videotron.ca
Tuesday 20th of September 2011
Aruba is best known for its spectacular beaches and surf side sun and fun, but there are many cool and offbeat activities well worth seeking out that you'll rarely find anywhere. Here are a few of them…
Adopt a Donkey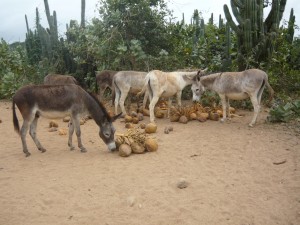 Donkey Sanctuary
Aruba
(
www.arubandonkey.org
), on the skirts of Arikok National Park, is a non-profit, fully volunteer foundation dedicated to providing a safe haven for wild, injured, and unwanted donkeys on the island. You can purchase treats to feed them on-site or bring some apples and carrots to further entice their affections. You can also officially adopt a donkey; the money covers the cost of feeding and shelter for one year. You can see the back stories of the donkeys up for adoption at their website. There's also a new eco-lodge cresting the sanctuary called
Cunucu Arubiano
(
www.cunucuarubiano.com
) where the friendly donkeys frequently nose right up to your deck during your stay.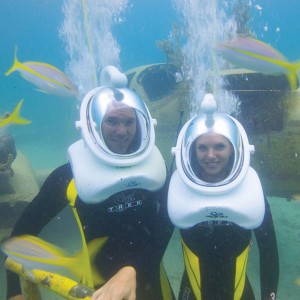 Moonwalk Underwater
You need not even know how to swim to walk among the scads of tropical fish and colourful coral and marine life living underwater at De Palm's private island via their surreal
Sea Trek
(
www.depalmtours.com/sea-trek
)
adventure. A helmet that looks like the top of a space suit is attached to an oxygen hose that leads back to the dock. You simply walk and breathe as normally as you would if you were on the surface, and even at 20 ft. below, you don't even get your hair wet!! Video memories documented by professional photographers are available for purchase afterward.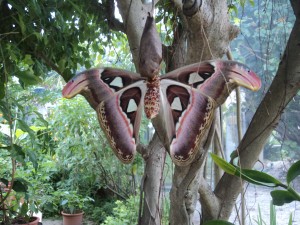 Witness Metamorphosis
Aruba's Butterfly Farm (
www.thebutterflyfarm.com
), right across the street from the Divi Phoenix Resort, is full of winged wonders in many stages of metamorphosis. Visit in the morning when they are most actively feeding, and if you wear something flowery they'll likely land right on you. Explore on your own, or follow one of their guided tours, the one time admission cost is good for as many repeat visits as you like.
Take an Ostrich to Lunch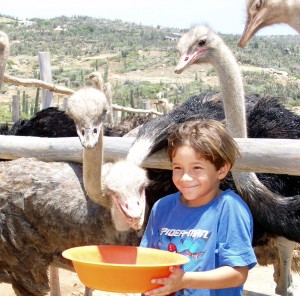 Take a guided tour that enlightens you all about the ungainly creatures at
Aruba Ostrich Farm
(
www.arubaostrichfarm.com
). Hold a mammoth ostrich egg in your hands or feed the flightless birds some lunch. (Watch your hair, they can have bad aim!) But be forewarned, if you're a vegetarian or have sensitive children, you best avoid their restaurant for lunch afterward as this is a working farm and ostrich meat is the main focus of the menu.
Sail on the Sand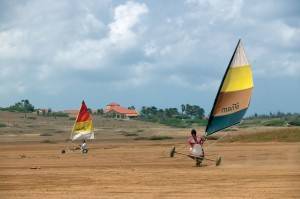 The Dutch love this offbeat land sport they call
blokarting
that takes advantages of Aruba's constant trade winds
.
You move via a contraption akin to sailboat on wheels. Once outfitted with safety gear and given operating instructions, you're off like the wind and land-sailing at top speed across the dry, dirt plains.
Aruba Active Vacations
(
www.aruba-active-vacations.com
) is the only tour operator that offers this adventure.
Hand-feed Flamingos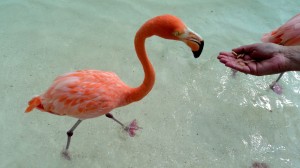 Even in you're not a Renaissance Resort guest, you can still purchase a day pass to their secluded
private island
(
www.marriott.com/hotels/photo-tours/auabr
) that includes water taxi from their downtown lobby, lunch at their tropical cafe, and access to two glorious beaches of calm, crystal waters surrounded by manmade breakwaters. (One side is for families and the other one is adult-exclusive.) Scheduled iguana feeding shows, an air-conditioned fitness centre, lounges, towels and hammocks are all included. Snorkeling and kayaking equipment rentals and seaside spa treatments are also available at additional cost. Hand-feed their resident flamingos with treats from the on-site vending machines, watch countless hermit crab colonies in action, or lounge among the many lounging lizards and iguanas that abound. There's also an eco-hiking trail forest, but pay attention to the signs about mosquito presence that day, if a warning is up at the entrance, DO NOT go in there. (I learned that the hard way!)
Climb "Alien" Rocks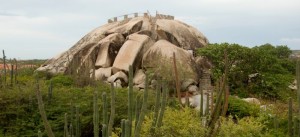 The tongue-in-cheek legend has it these rock formations seemingly appearing out of nowhere were dropped in the middle of the island by aliens since they have a geological makeup found nowhere else on Aruba. You'll find some at Ayo, but the Casibari rocks are easier to really explore due to stairs and foot paths throughout. No admission. For directions, click here: (
www.welcomearuba.com/casibari-rock-formations.html
)
Watch Baby Sea Turtles Hatch
From May until August, many of Aruba's beaches are prime real estate for nesting sea turtles. The local sea turtle preservation organization called
Turtugaruba
(
http://turtugaruba.org/
) barricades the nests away from the public for safety. If you join their turtle alert call list, they'll phone you day or night when a hatching begins so that you can witness the amazing natural spectacle. If you spot a nest, call their 24-hour turtle hotline at: 297-592-9393.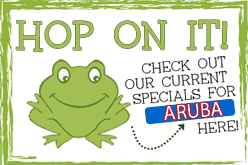 Aruba's Fabulous Flurry of Festivals
Aruba's Fabulous Flurry of Festivals
Susan Campbell
s.mc@videotron.ca
Friday 16th of December 2011
Though best known for their colorful Carnival, Aruba has all kinds of cool festivals, annual events, and visitor-inclusive celebrations happening all year round!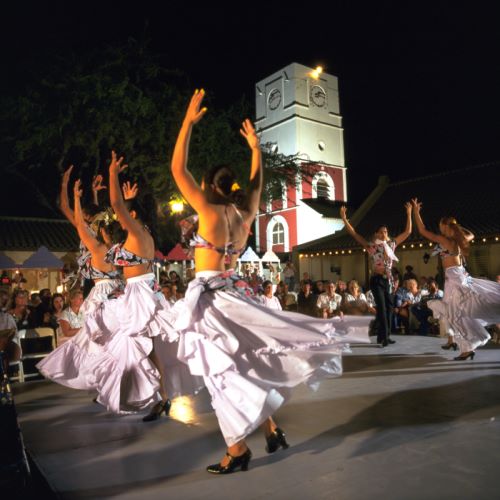 Though Carnival lasts for three months, it really doesn't matter when you visit Aruba as there are all kinds of gala events going on all year-round. And you need never worry about the weather for outdoor festivals: Aruba is outside of the hurricane belt and boasts a balmy average of 85 degrees with only 20 inches of rainfall per year! Here are some of the most popular offerings, but there are many more. Visit their tourism board calender of events (
http://www.aruba.com/thingstodo/events.aspx
) to discover what's happening when you plan to visit and to check for updated information on dates and locations.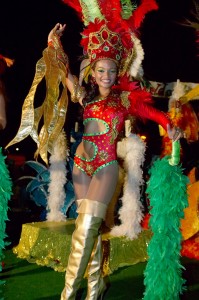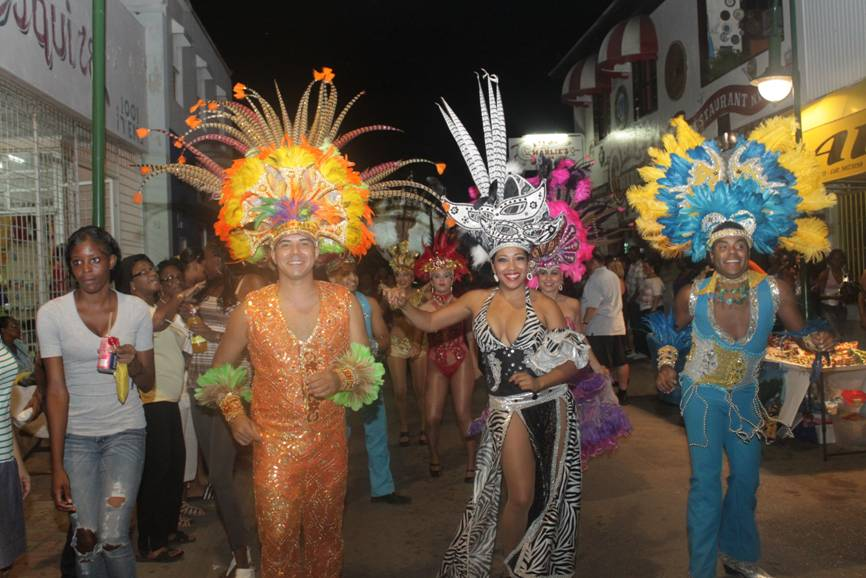 Carnival
takes center stage on Aruba beginning from early January right through to March, bringing all 100,000 residents out into the streets to celebrate in high style. This is tropical glitter and pageantry at its finest, and of course there is lots of infectious music surrounding the jump-ups, parades and pageants. Costumes can take thousands of dollars to make, and the theme planning begins an entire year in advance. Popular events include the Tivoli Lighting Parade, Jouvert Morning in San Nicolas (locals have dubbed it the pajama party as it begins before sunrise and most show up in their night clothes), the Children's Parade and of course the finale with the grand midnight burning of "Momo" the effigy king. 2012 will mark its 58th consecutive edition; and now there is a new mini-version of carnival called the
Carubbian Festival
that showcases a preview of the real deal in San Nicolas all year-round. Carnival style costumes, music and dancing, local food and crafts, and a jump-up party atmosphere rock the entire main street of the town Arubans call Sunrise City every Thursday night from 6-10pm. Some resorts offer packages that include transport there and back. Then there is the weekly
Bon Bini Cultural Festival
that showcases local music, dance and food in downtown Ornajestad every Tuesday night from 7-9pm at historic Fort Zoutman. There are also specific days of the year that the entire island celebrates with cultural pride, such as
Flag & Anthem Day
on March 17th and the Dutch
Queen's Birthday
on April 30th. And if you are on island June 24th (St.John's Day) and notice lots of smoke in the air, do not be alarmed as bonfires are purposely set all around the island as part of
Dera Gai
(Rooster Day), a special island-wide cultural celebration with song and dance among all the communities. And at the new visitor center of
Arikok National Park,
regular weekend events to showcase local music and dance in their courtyard are planned for the near future.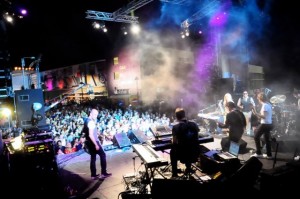 Musical Celebrations
The
Aruba Soul Beach Music Festival
is held on Memorial Day holiday weekend each May. It's a two-night concert series that has featured international talents like Jennifer Hudson, Toni Braxton, MJ Blidge, Alicia Keys, Brian McKnight and more.
Caribbean Sea Jazz Festival
is held at Casa di Cultura each year in early October with a star studded list of musical talents attracting crowds of some 7,000 jazz fans, and the first
Aruba Music Explosion
took place in September 2011 in the Piedra Plat Stadium, and was such a rousing success with headliners like Micheal Bolton and Air Supply alongside local talents that it is now planned as an annual event. For classical music fans there is the annual
Aruba Piano Festival
going into its 6th season in 2012, it is also in September and features world class musical artists playing a whole lot more than just pianos; and for homespun music, every January right after the fireworks have faded locals start the year off in musical style with singers traveling from home to home in an ancient tradition called
Dande,
designed to bring good fortune for the coming months. There are also public concerts that mark the occasion as well.
Food, Wine, Film, Art & Fashion Festivals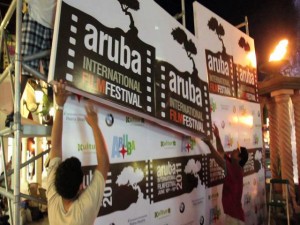 The island now rolls out its very own red carpet for the annual
Aruba International Film Festival(AIFF)
. Held in June, it will mark its third year in 2012. International film industry types, jet-setters, and famous actors like Richard Gere and Kim Cattrall have been among the glitterati spotted there, and the after-parties are world class. High fashion has also hit the island runways as of 2011: their first annual
Aruba In Style
was a huge success in November. Hosted mostly at two Marriott brand hotels, the Aruba Renaissance's
adult-only hotel
and also at the
Aruba Marriott's
new adult-only H20asis pool, the fashion shows, celebrity cocktail parties, premier DJ events, styling sessions and more really put Aruba on the haute couture map. And they intend to make it even bigger and better next year! As for the palate, every year the Westin Hotel hosts the gala
Aruba Wine, Food and Art Festival
highlighting the talents of local and international chefs and spirits companies as well as renowned artists in June. There is also a monthly
Food and Wine Festival
highlighting food from Aruba's local restaurants in Arawak Gardens. Many resorts and restaurants host their own culinary galas: check the local news website
(www.aruba.com
) for updated information.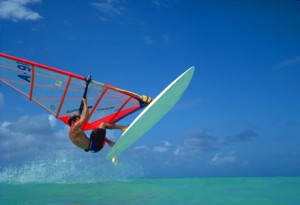 Sporting Events
Regattas
, pro-am
golf tournaments
, international beach
tennis championships
and even
drag races
bring out fans in droves, but the island's biggest and most famous annual sporting event is by far the
Aruba Hi-Winds
in July, which showcases some of the world's very best windsurfers and kiteboarders and has the entire island in party central mode until its over. There is also two wonderfully social and socially conscious eco-events held every year where visitors are welcome to join in- the annual
Aruba Reefcare Project
attracts thousands of locals and visitors out for two days of reef and beach cleaning with great parties in July. And then there is also Aruba's official
National Coastal Clean-up Day
(Nov. 12th). Many visitors like those who stay at Bucuti which is an extremely environmentally-conscious resort, join the locals to help keep Aruba's glorious natural wonders clean and pristine for the future.
Content provided by Columbus Travel Media Ltd. © 2014. By its very nature much of the information in this travel guide is subject to change at short notice and travellers are urged to verify information on which they're relying with the relevant authorities. Travmarket cannot accept any responsibility for any loss or inconvenience to any person as a result of information contained above. Event details can change. Please check with the organizers that an event is happening before making travel arrangements. We accept no responsibility for any loss, injury or inconvenience sustained by any person resulting from information published on this site.
Found a problem with our Destination Guides? Please report any issues by completing our
Bug Report Form
How can we make improvements?
If you have a suggestion for improving our destination guides, please submit them to our
Suggestion Box